One of the things I have been telling people about Obstacle Course Racing (OCR) is that although the sport itself is new, the problems facing the athletes are not new. So when looking to improve various aspects of OCR I look towards other sports to solve the problems at hand. For improving endurance for events like World's Toughest Mudder (24 hr OCR) I look to ultra-runners. For maintaining a lean physique with low body fat but quality muscle I look towards the bodybuilders. So when it came time to improve grip strength, I look towards the people who turned it into a sport on its own, Ironmind.

Ironmind is a website for serious grip strength training. In fact it is so serious they have competitions that revolve around the various aspects of grip strength including but not limited to the ability to bend nails, close grippers, hold grippers closed for time and a variety of lifts using what I call non-standard holds. One of the key aspects of Ironmind's training methodology is the Crushed to Dust Cube. This cube provides eight different facets of grip strength broken into three categories:
Prime mover: Crushing (majority of power provided by four fingers)
Vs. Pinching (majority of power provided by thumb)
These prime movers can each be broken down into open hand or closed hand positions.
Crushing: The primary force holding the object is coming from your four fingers and not your thumb.
Closed Hand: Used when finishing off a gripper, grapping a thin monkey bar or carrying a jerry can with a thin handle
Open Hand: When lifting a thick bar, carrying a weighted bucket, grabbing a thick monkey bar, or the top of a wall
Pinching: The primary force holding the object is coming from your thumb rather than your four fingers.
Closed Hand: When gripping a thin object like a barbell plate
Open Hand: When you pinch a thick object like bumper plates
Each of these four options can be trained using two different modes of intensity.
Intensity: One Rep Max: Used when grabbing an awkward shaped obstacle or powering through a tough obstacle like the Platinum Rig.
Endurance: The ability to repeatedly use the above techniques over the course of a race, whether that be a 8 mile Spartan Super, a 6.5 hour Battlefrog Xtreme or a 24 hour World's Toughest Mudder.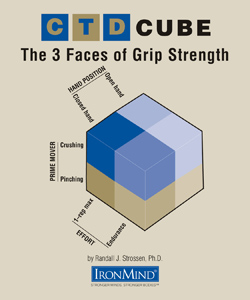 The two different intensities multiplied by the two different hand positions of the two different prime movers creates 8 total facets of grip strength. Additionally a supporting role is played by the wrist/forearm and the extensors to stabilize the hand. By doing thing like wrist curls and reverse wrist curls it specifically targets these supporting muscles.
For obstacle course racing, we want to focus on primarily crushing by doing both closed hand and open hand work. This is due to the variety of objects we grab over the course of an event from extra wide bars, tops of walls, thin monkey bars and objects used for farmer's carries. However, in order to be well rounded some pinching work should be incorporated because you never know what obstacles the course designed will throw at you. While this may still be confusing for some, in the next post I will give you specific exercises associated with each and tools you can make or purchase to enhance the 8 facets of grip strength.