Anyone looking closely at professional sports can see that performance enhancing drugs are a problem. If you do not think they are a problem, then you are probably not looking hard enough. This occurs in both, strength based sports and speed based sports. Many of the competitions now on television, Crossfit and Strongman being notable ones, started as fringe sports or organizations with no professional athletes. Does that sound like mud runs also known as obstacle course racing? Sports such as strongman and professional bodybuilding have obvious drug use based off the size and level of strength these athletes achieve. In those sports, it is part of the culture and required to compete at the highest levels. I think they are present in Crossfit too, but that is another topic (if you need convincing check out this article). Even endurance sports are not immune as demonstrated by Lance Armstrong's Seven Tour De France victories and recent failed drug tests by female Boston Marathon winner Rita Jeptoo.
Performance enhancing drugs is a broad term, which includes EPO (erythropoietin), HGH (human growth hormone), steroids, various stimulants and anything else banned by the World Anti-Doping Agency (WADA). The physical benefit many drugs provide allow for a faster recovery, which allows an athlete to train harder again the next day. When compared to a clean athlete, this means the drugged athlete will be able to improve at a faster rate. The drugs will provide short-term positive effects but also, based off most studies, long-term damage to the heart and other organs. EPO improves performance by increasing your red blood cell count, thus allowing your body to process more oxygen. EPO is safer in one regard because it is less likely to do long term damage to your body but more dangerous in another because there is a chance you could die because your blood becomes too viscous. It is fact that athletes can gain an advantage from performance enhancing drugs (PEDs), the question is, is obstacle racing the next sport to use them? Or are they already here?
The good news is that with the establishment of Obstacle Course Racing World Championship (OCRWC) as a centralized, non-company specific race for world finals, they have started taking the right steps. Despite holding their first competition in 2014, they immediately announced they are adhering to WADA guidelines. Furthermore, reports from athletes on their Facebook page say testing did occur at the October 2014 championship. These tests included athletes placing in the top of the rankings in addition to some age groupers placing in the middle to bottom of the standings. This concept is already ahead of other organizations. The first Crossfit Games was held in 2007, but their first time drug testing did not occur until 2011. That is quite a gap, allowing for dozens of drugged athletes to enter and rise to the top level. Other World Championships including World's Toughest Mudder, Spartan Race and Warrior Dash, all state that they may drug test athletes during the event weekend. I have not seen any athletes report testing took place, but I also have not been following every feed regarding each of those events.  I have also not gone out of my way to ask competitors if they were tested at the time of this writing.
The bottom line is that PEDs will be present in all sports as long as there is a benefit gained from taking them. Having testing policies in place and announcing that WADA guidelines are the standard for all obstacle course races is the first step in the right direction. However, this step alone is not enough to keep OCR or sports in general clean. People across the sporting world are trying to develop solutions as shown by the development of numerous new tests, including the test for EPO in 2000 and the establishment of biological passports. Others are proposing more aggressive solutions to prevent cheating in sports. A article called "The Doping Dilemma" by Michael Shermer from the Scientific America Journal in April 2008 proposed the following steps to rid professional cycling (or sports) of doping:
1. Grant immunity to past athletes in exchange for total honesty.
2. Increase number of competitors tested. This includes off-season testing, pre-competition and in competition testing. Additionally, by establishing a biological passport for all athletes their hormone levels, hematocrit levels and other markers used to identify drug will have a baseline.
3. Offer rewards to scientists to develop new tests in an attempt to stay ahead of drug takers.
4. Lifetime bans for failure of any test and forcible return of lifetime winnings.
5. Disqualify all team members for that specific event if one person on their team fails.
OCR is not cycling, but I believe some of these principles can be applied currently with no additional work, specifically steps 1, 4 and 5. Step 4's return of lifetime winnings would be very hard to enforce due to the variety of companies but the lifetime ban could be easily enforced if companies are serious about keeping the sport clean. For OCR, Step 2 requires additional money, which should come as the sport grows. Step 3 requires sponsors to fund drug testing, which is something I do not see happening anytime soon (in OCR or other sports). Many sponsors want drugged athletes. The sponsors will not openly say that, but they want super human performances, which is more likely to occur in a drugged athlete. Just look at the Mark McGwire and Sammy Sosa along with all the publicity they generated for baseball. Look at Lance Armstrong, who took cycling from a European sport and created a generation of American cycling fans and ahletes.
These steps could be a pre-emptive strike against doping in a sport that was founded on teamwork and overcoming physical or personal obstacles. I would add a Step 6 and Step 7 to this process. Step 6 is a personal pledge that is publicly stated and widespread. Having to say a pledge helps reinforce that belief that using PEDs is wrong. A pledge helps reinforce the concept that doping is bad across the community and creates a zero tolerance type of environment.
Step 7 is education. Educating athletes what substances are banned can help reduce drug use even more. For example, people see commercials on television for hormone replacement therapy (HRT) or "the problem of low T". To be clear, if you are using those medications you should not be competing for prize money or placing at the top level of OCR. Hormone replacement therapy, anti-aging, preventing low T, or whatever you call it, is the same thing as taking PEDs, just under a different name. Most likely those taking treatments are not at the top level of the sport but if I was a 50+ racer going against another 50+ racer who was on HRT and losing, I would be upset. Included in Step 7 is having an understanding of all the items on the WADA banned substance list. I know many athletes who say they do not take any banned substances but do not know what is in the supplements they ingest on a daily basis. Did you know that banned substances are sold in Walmart and GNC? Below is a picture I took last week from my local Walmart.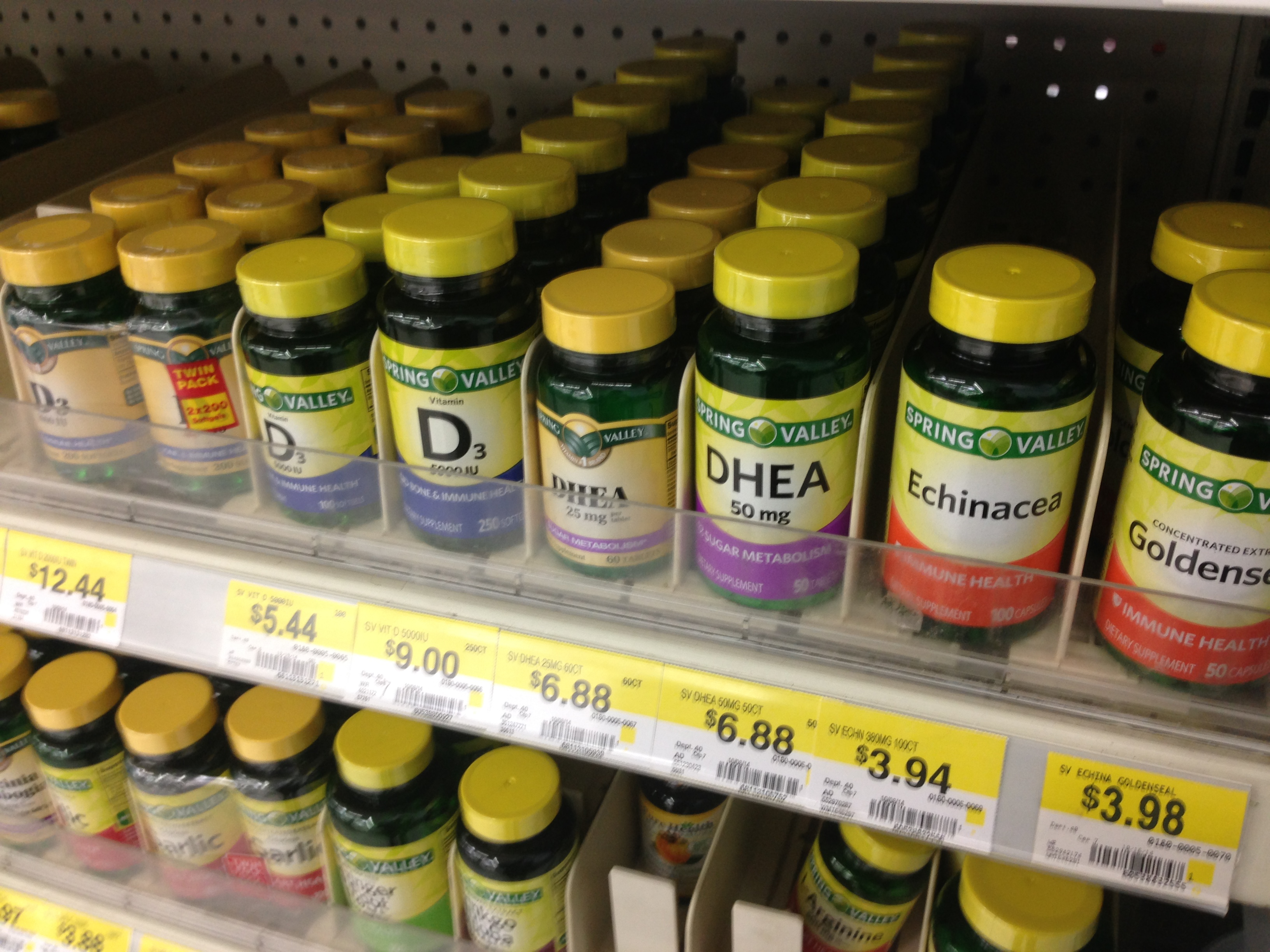 DHEA Sold on the Shelves of Walmart
Dehydroepiandrosterone (DHEA) is listed as a banned substance by WADA but is sold over the counter. DHEA is marketed for boosting testosterone, improving sex drive, fighting aging or burning fat. It is usually included in supplements because of its anabolic effects, which help with the other goals listed above. Another common one is 7-Keto (or 7-Keto-DHEA), a byproduct of DHEA. 7-Keto is often found in fat burners such as Cellucor's CLK which is sold on the shelves of supplement stores everywhere. Cellucor is one of the big names in the supplement industry and not some underground company.  Often items like CLK and other fat burners with banned substances are not kept in a locked case or behind the counter. If you are going to use supplements, which I recommend, just ensure your products are clean. This can be done by following a company that abides by WADA standards, like Hammer Nutrition, or by having an understanding of what substances you are putting into your body. Finally, stay away from substances that target steroid users. These are typically kept in locked glass cases at supplement stores and have steroid like names with prefixes or suffixes like deca-, ana- or –bol.
Still, the question remains is obstacle course racing next? I do believe the influx of PEDs on some level is inevitable, but I think with the above steps it can slow down or possibly stop their infiltration into the sport. I currently do not believe they are present in 99% of the top level of the sport and are therefore not a factor when it comes to championships yet. What about the other 1%?  I do not have enough evidence or data that I would be willing to call someone out.  This is just my opinion based off what I know about the other elite athletes, their previous race results and the current lack of physical signs that come with PED use.  I will state that they are present in the sport by recreational gym rats that currently race for fun but are not coming close to the podium. If you are not racing for top placing, then what you do with your body is none of my business.
As the sport continues to grow in both prize money and prestige, it is important that drug testing and drug enforcement remains a top priority for organizations. With the Warrior Dash World Championship offering $30,000 for 1st place and numerous other championships offering $10,000 for first place, there is a lot of money invested in the sport. A lack of emphasis on not using PEDs will result in the sport following in the footsteps of other drug-ridden sports.
If you know drug users who are racing at the elite level encourage them to quit using or quit racing at that level. How long should their hiatus last? Should it depend on how long the positive effects of PED use last?  One answer is it depends on the drug, quantity taken and length of use. Natural bodybuilding organizations typically require 5 to 7 years of being 100% clean before competing. If you follow the steps listed above, a failed test should result in a lifetime ban (something I am in favor of). As top American marathoner Shalane Flannigan recently stated regarding Rita Jeptoo's failed tests, PED users are not only stealing money but "they are the stealers of dreams." Everyone please do your part in this anti-PED campaign. Let us work together and keep mud runs clean.
-Evan Perperis