Wayback on Saturday August 13, 2016, Terrain Race made its first trip to the Minnesota market (busy time at work, so it took me a while to sit down to write a recap). As an event, I thought it was fun; but as a competition I was left with a bad taste in my mouth. To be honest, the fire that I had in my belly after the Des Moines Conquer the Gauntlet faded quickly, and I fell out of a regular training schedule. I made some specific changes that were tailored to this event though, and I was eager to see how I would do considering I didn't think Terrain would have the same regional draw as the Minnesota Spartan Race (plus, I happened to know a few of those that had beaten me at Spartan would be racing elsewhere). I went into the race hoping to place in the top 5 for the first time at a race this year and left with a whole mix of emotions that I'm still working through.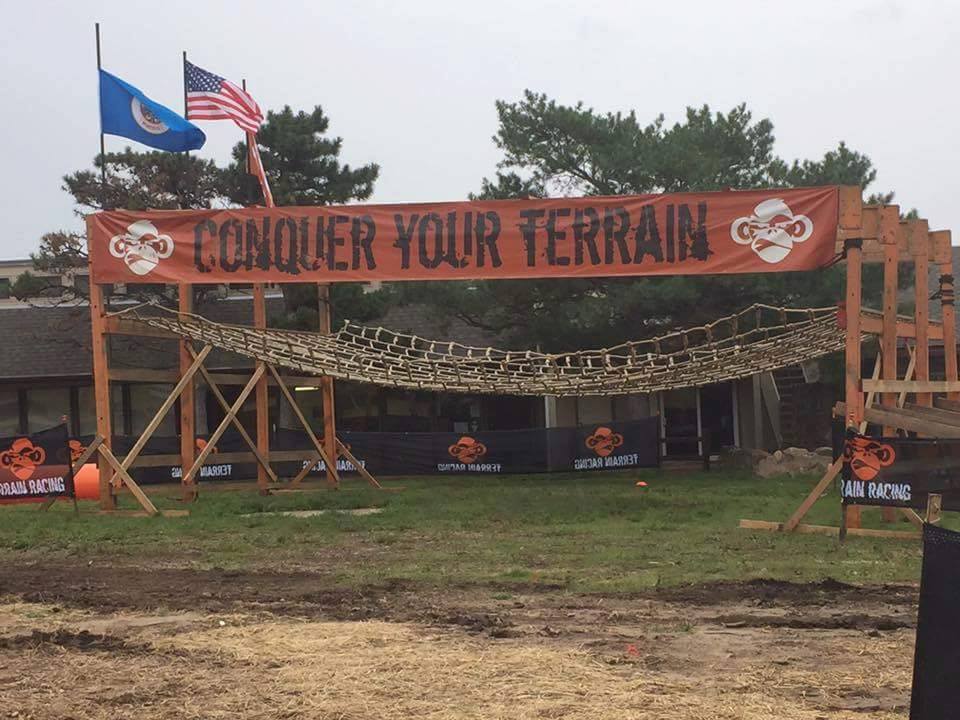 The Venue
For once, a larger race series delivered on a promise: the venue was actually within 30 minutes of downtown Minneapolis at Buck Hill (aka, Camp Titan to those in the know). It isn't as large of an area and the terrain isn't quite as rugged as venues outside of the immediate suburbs, but the tradeoff for an extra hour or so of sleep wasn't too bad. I had actually trained at Buck Hill quite a bit during the summer of 2014 as it was one of the few places near me to get in some good hills as I prepared for the Vermont Ultra Beast that year (Buck Hill helped me survive… barely). To be honest, I knew the area enough to know that having a 10k and 5k course was ambitious. When I heard the week before that two of the ski hills were off limits due to them installing some year-round skiing surface, I knew they would be cramped for space (as I would come to know all too well by the end of the race).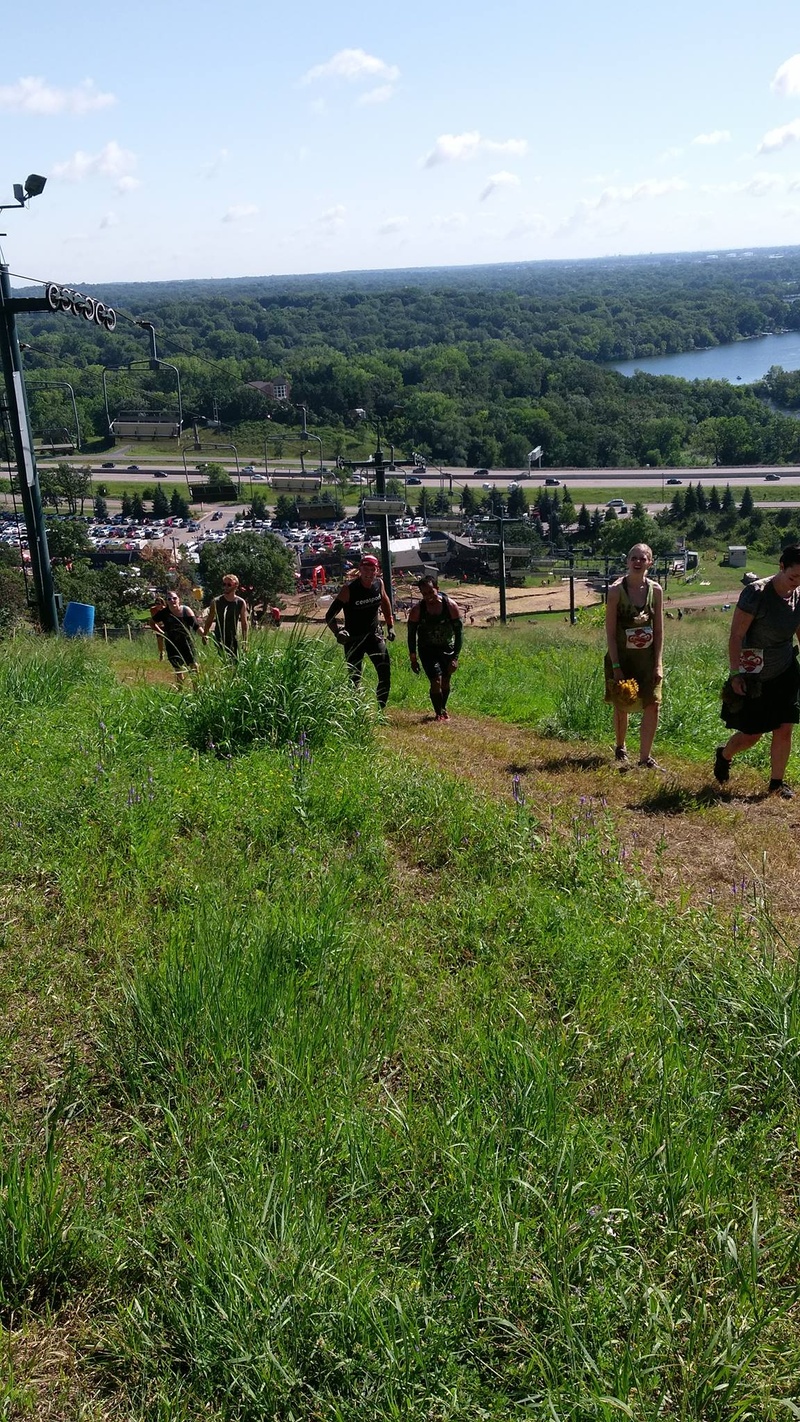 Thefestival area was great. There was a small warm-up rig featuring some of Terrain's signature "Monkey Balls" for racers to get accustomed to; a set of yard games; great views of multiples obstacles; and unfortunately a DJ that seemed to have limited playlist that got me sick of the song "Uptown Funk" by the end of the day.
I personally liked that Terrain let you add on the option to run multiple laps of either the 5k or 10k course with registration for a small fee. I love the competitive aspect of OCR, but for my mental health it is great to go out and run a second or third lap with friends just for fun, and I planned on taking full advantage.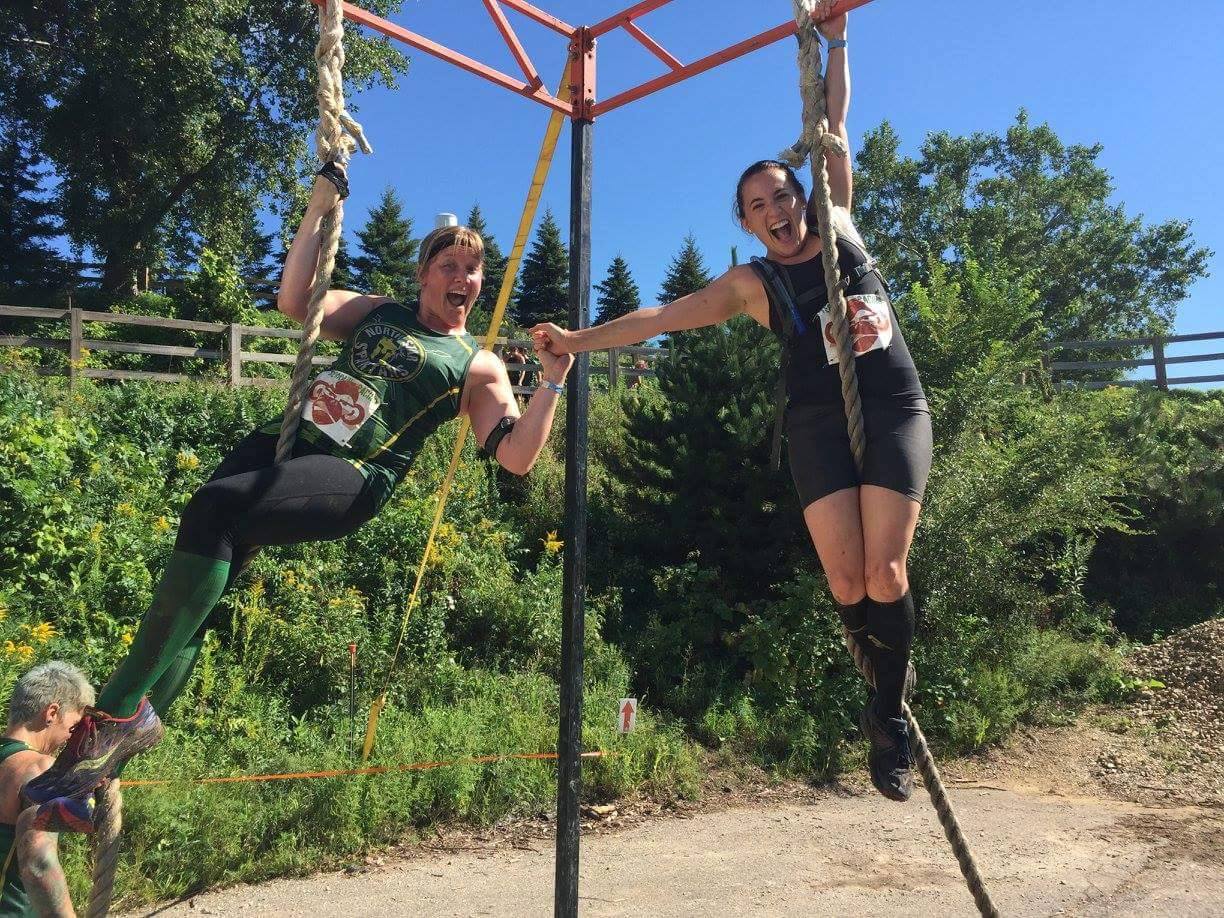 The Race (10k Competitive)
 I went into the race with a stated goal of finishing in the top 5 overall, but in my head I was hoping that this would be my first time making it on to a podium.The race started off quick and I was keeping pace with the two people I knew would finish ahead of me based on past races. As we got towards the top of the first hill I had the leader in sight and was in a small clump of people between third and sixth. At the top we had a short Wreck Bag carry through some single track. It was camped, but flat, and the Wreck Bag was only 25 pounds so everyone kept up a good pace.
After exiting the carry there was some confusion about which way to go. After dropping off the bag there was some marking tape on the ground several yards infront of us. I asked the volunteer manning the obstacle which way we were supposed to go and his response was "which way does it look like you're supposed to go?" Looking around again, I said, "left, but that's why I'm asking you man." The volunteer directed us, along with everyone else after us to go right, over the trampled orange tape. Unbeknownst to any of us at the time,that is where we ended up taking a very significant shortcut that ended everyone's races. But read on, the plot thickens…
We powered up a short hill, believing the two leaders had gapped us enough to be out of sight as we rounded a bend on the back side of the hill. Down a short tube slide and into some rolling mud pits, then we came to where the 5k and 10k split. The 10k went into some single-track mountain bike trails that allowed us to open up some speed. It was flat, and in over a mile all there were in terms of obstacles was a sandbag carry of probably less than fifty yards (and the bag couldn't have been more than 25 pounds), and a couple teeter-totters. The threeof us that were clumped together once again, but one of the others dropped during the tire drag. This was similar to the plate drag at Spartan, but with a fairly large tire (made more difficult in this instance by the fact that you had topull them up an incline on an uneven surface).
Next, we got to the top of one of the larger hills and went over an 8-foot wall. At that point it appeared were supposed to go under a cargo net, but there was some marking tape across part of the opening. Again, we asked the volunteerwhich way we were supposed to go and he told us to go over the cargo net. This required us to around some of the marking tape, so we asked if he was sure and he said yes. We were then directed on our marry way, up and down another hilland we came to the shortest rope climb I've ever done, and made our way througha water station. After rounding another hill, the course clearly marked us togo… back over the cargo net. Understandably confused, we asked the volunteerwhich way we were supposed to go and were told to cross the cargo net again.Afterwards, we again asked which way we were supposed to go, and told thevolunteer he had already sent us that way. Assuming we had missed a turnsomewhere else, since this was the way we were actively being told to go by thevolunteer, we sped off again.
This was the first point that I began to think we had gotten lost. We went up thehill again and saw the rope climb and asked the volunteer there if we hadmissed a turn; unfortunately he had no idea why we were there again. It wasclear as we passed through this area that we didn't miss a turn. I started talking with the only other racer with me and we began wondering how manypeople would pass us while we were on this detour. We got back to the cargonet, went over a third time, and decided to go off a different way than the volunteer told us; coincidentally, it turned out to be the right way.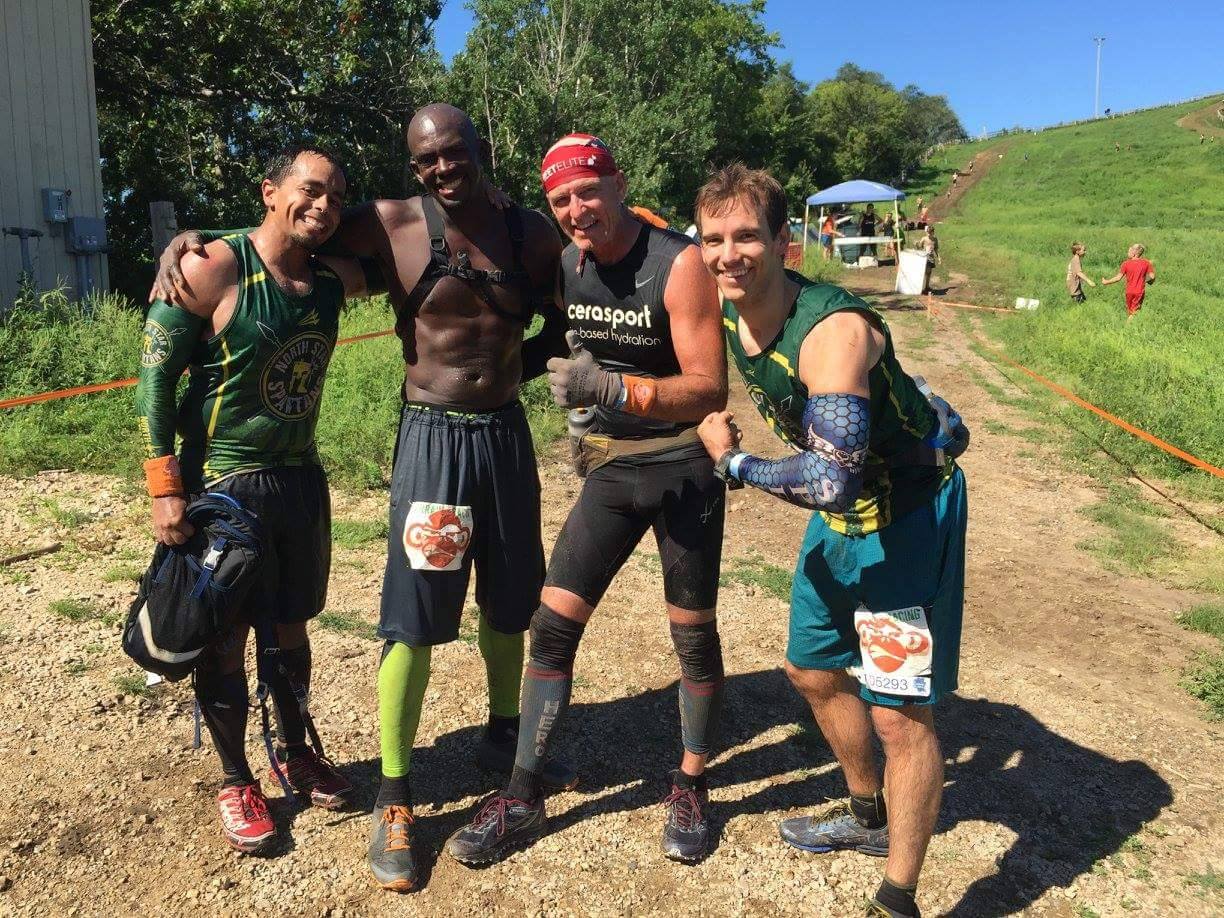 At this point, I saw a lot of people in front of us, and while we had joined upwith the 5k runners, I knew several of those I started to pass were running the10k and I had been a decent distance ahead of them. At that point I knew things had gotten screwed up pretty badly. I figured the volunteer had finally been told which way to send people after we had gone through twice and was a little demoralized by the thought of how many people had gotten ahead of us. My pace slackened a little, but I kept up with the other guy I had been going back andforth with, hoping there would be some way to sort things out at the end.
We rounded down a hill and started to head back towards the festival area. My GPS watch was still way short of a 10k, so I began to think something was up considering I had thought we ran a considerable amount extra after being misdirected. I entered the signature "Monkey Balls" obstacle next to the personeI had now been trading off between 3rd and 4th for the last few miles and decided that just for my own satisfaction I was going to try to speed throughto beat him in the last few hundred yards. Prior to the race this had been theonly obstacle I was worried about needing more than one attempt to complete. I had gotten slightly more worried after practicing on the rig in the festival area. The balls on the practice rig were worn down and somewhat grimy, makingthem extremely slick and difficult to hold during transitions.
With that in mind I approached the obstacle on the course with a little hesitancy, but I felt fairly confident given the training I had been putting in at Ninja'sUnited. I got to the monkey balls slightly ahead of my competitor and found that my worries were unfounded. The balls were still dry and had substantially less wear and tear than those in the festival area. I breezed through andsprinted to the final cargo net and flung myself across with reckless abandon.I crossed the finish line just in front of my competitor.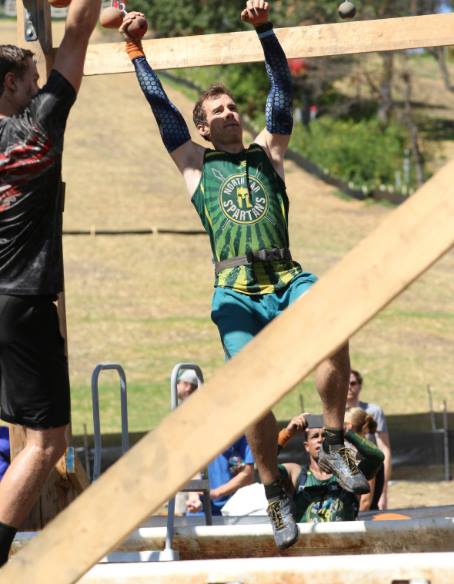 The Finish Line
 When I got to the finish line I started seeing some familiar faces and quickly learned that things had gone wrong for almost everyone. It turned out that only the first two racers had followed the course to the left after the Wreck Bag carry. I then found out that (as far as I know) only myself and one other racer had been misdirected at the other portion of the course. By the time I had finished only 4-5, had already finished the 10k, and staff seemed pretty aware that they had an issue on their hands. Others had made them aware of the firstmisdirection, but when I brought up the issue later in the race they seemed indifferent.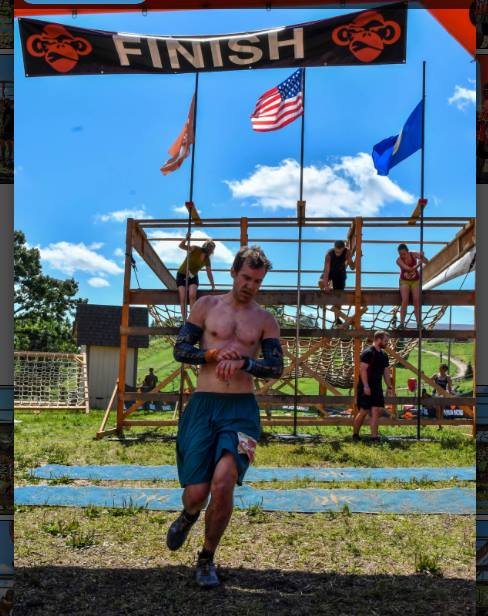 I spent the next hour or so pretty salty about the whole situation. This wouldhave been the first time I had ever finished in the top 3 at any event. I honestly didn't care about losing out on money (although it would have been nice), but I wanted some form of validation for the hard work I've been doing. After doing the course again later I realized just how much of the course had been cut (and how much extra I ran in other places). After seeing this, I don't even feel comfortable claiming I *would* have gotten third because things could have changed so drastically on the portion that was cut. I left feeling cheated out of the opportunity to compete.
Post Script
 It isnow 8/23. I know they gave awards to the top 2 finishers. I haven't heard anything else about how they are handling other finishers (despite reaching outa few times). No results have been posted; I went out and self-timed a 5k laplater that day to see where I might have ended up, but haven't been able to check, since nothing has been posted.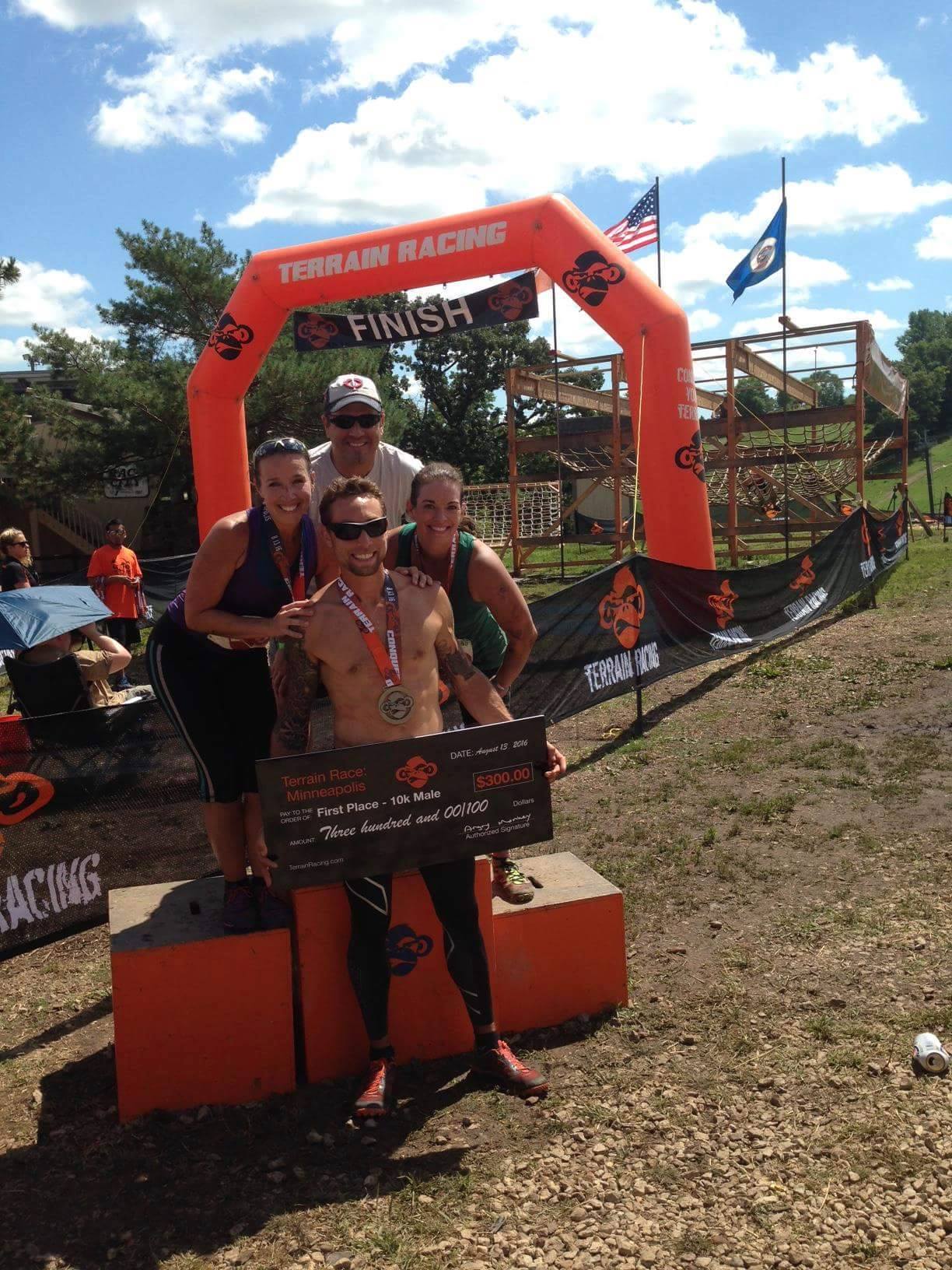 My takeaway lessons for Terrain Race to make things better for competitive runners:
· Release a course map in advance of the race, or at least have it posted in the festival area. This would have allowed everyone to realize we had taken a wrong turn by the next obstacle rather than ruining the race.
· Give volunteers a copy of said map and give them instructions on where to guide participants.
· Don't loose the course back so closely on itself. If you go off course you generally know it within about 20 yards since you don't see any markers. This is not the case when you cross directly onto anotherportion of the course (I'd note that this should concern course designers ingeneral because switchbacks lend themselves to INTENTIONAL course cutting.
· Communicate after the race. It would be lovely to knowwhat (if anything) is happening with the results. Everything I know has been heard second or third hand. Even if it is acknowledging you have no idea how toresolve the situation, it would be nice to know. Own up, acknowledge the mistake,and vow to not let it happen again. No need to offer explanations, just work to make sure it doesn't happen again.
Takeaway
Ultimately, would I run this again if they come back? Probably. There aren't a ton of options for competitive races in Minnesota (especially given the recentuncertainty regarding Battlefrog), plus the price is right and they got apretty good venue. I wish Terrain the best and hope they sort out the very fewissues I had.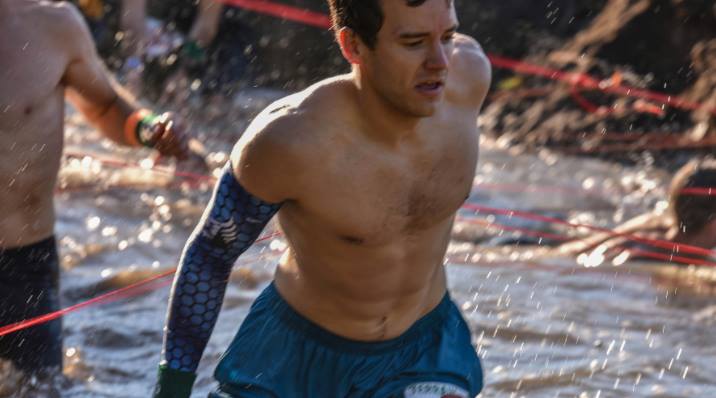 (All pictures provided by Kevin Hill)

------------------------------------------------------
Kevin is a member of Team Strength and Speed's OCR Development Team. He is a running and OCR enthusiast in the pre-dawn hours and weekends, but spends most days as a criminal prosecutor in Carver County Minnesota.