With a catch phrase of "Probably the Toughest Event on the Planet", many people view the Tough Mudder obstacle races as the physical highlight of their year. The average Tough Mudder is 12 miles in length and has approximately twenty obstacles. The obstacles vary in difficulty from relatively easy, such as crawling over mounds of mud, to more difficult like traversing monkey bars and rings. They also prey on your fears by including obstacles that contain live electric wires, underwater swimming and jumping from heights of twenty feet. This is the average Tough Mudder though, not the hardest event on their calendar.
The hardest event is the 24 hour long World's Toughest Mudder that consists of five mile loops with twenty obstacles. The event is both a challenge and a race as competitors try to complete as many laps in the 24-hour period as possible. The obstacles are harder, the competition is higher and the company offers $10,000 to the winner of the event.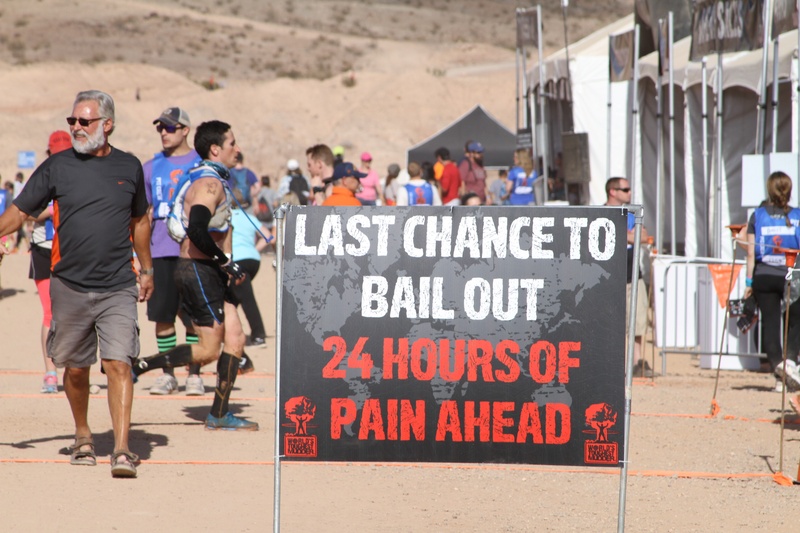 Author running past the 24 Hours of Pain Sign
Being a glutton for punishment, I signed up for the event this past summer. As an experienced endurance athlete (17 marathons, 3 ultra-marathons and 2 iron distance triathlons) and a competitive lightweight bodybuilder I am always interested in challenging myself. This would not only be my first World's Toughest Mudder but also my first Tough Mudder. Although I am an elite obstacle racer who has placed in the top 60 competitors in events like the Warrior Dash World Championship and Obstacle Course Racing World Championship, I have never attempted a Tough Mudder nor an obstacle race over 9 miles in length.
World's Toughest Mudder started in 2011 and traditionally occurs in Englishtown, New Jersey in mid-November. With temperatures that drop below freezing wetsuits are not only encouraged but also necessary if you are looking to race the full 24 hours. This year to change things up the race organizers decided to move the venue to sunny Las Vegas, Nevada. With the race scheduled for mid-November, the weather appeared to be much more moderate with daytime highs in the low 70s and nighttime temperatures expected to drop to low 40s.
Prior to the event, the message boards were alive with racers talking about the nicer race conditions. Racers were excited marking their posts with #NoWetsuitsNeeded as race day drew near. People who raced previously were also excited on improving their mileage goals from last year. To encourage participation all night long the race offers a variety of prizes including different colored bibs for mileage completion of 50, 75, 100 and 125 miles. Although only one man has earned the 100-mile bib, Ryan Atkins in 2013, and no one has earned the 125-mile bib.
The race began with the usual Tough Mudder fanfare with a hype man talking up the event and getting the crowd motivated. As expected, the temperature was about 71 degrees as racers lined up with shorts and no shirts. In order to prevent lines at the obstacles, the first lap is a sprint lap in which racers just run the course bypassing the obstacles. This effectively spread everyone out so the real race could begin on lap two.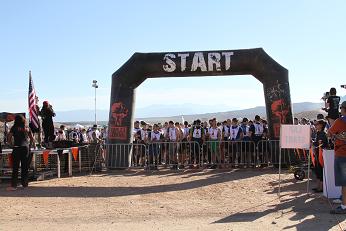 Starting Line
As lap two began I already heard others talking about the difficulty of the terrain. Englishtown had been relatively flat, allowing racers to cover more distance. The Las Vegas course has 750 ft. of elevation gain per lap. That does not sound too bad, but when you multiply it by 10 or more it suddenly becomes more daunting. Racers were making comments like "Completing 40 this year is like completing 50 last year", others made bolder statements like "Completing 30 this year is like completing 50 last year".
The obstacles did not disappoint either. The race organizers added new obstacles that tested both physical ability, intelligence, common fears and your patience. After climbing the first large hill, I came upon the first obstacle, which consisted of crawling and a loose cargo net but over tires. Easy right? Fast forward 14 hours when you are exhausted and sleep deprived. Trying not to get caught in the cargo net every six inches becomes quite a chore. Mixed throughout the course was the standard array of mud obstacles including a mud put and mounds of mud, which further tested your patience as they tried to swallow your shoes.
The course also stayed true to its Vegas location by including an obstacle called "The Gamble". The odds are displayed on a sign, which changes every lap. Roll a good number and you bypass the obstacle, roll a bad number and you have to make your way through 20 ft of mud with live electric wires hanging down. Yes, I occasionally lost The Gamble and yes, the electricity hurts.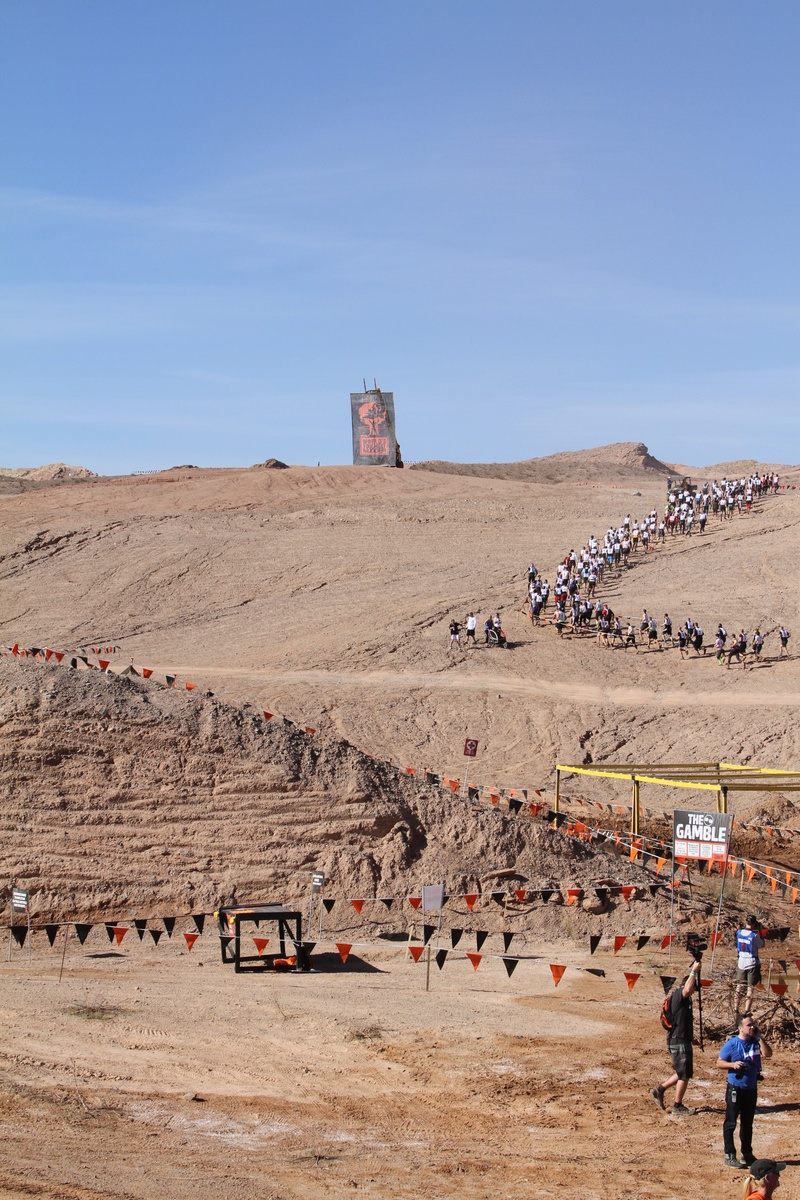 View of the Terrain with "The Gamble" in the Foreground
Add in inverted walls, a ¼ pipe that competitors run up and pipes to crawl through will add to the physical exhaustion. Probably the hardest obstacle for most competitors was "Grabbin' Shaft" (apparently the race directors have a sense of humor and must be predominately male), which involved inclined monkey bars transitioning to a metal swing and then to a pipe. This obstacle hung over a vat of neon green liquid making it that much more concerning. Fail the obstacle and a ¼ mile cinderblock carry awaited you on the far side. Pass the obstacle and you bypass the ¼ mile cinderblock carry to continue your five mile lap.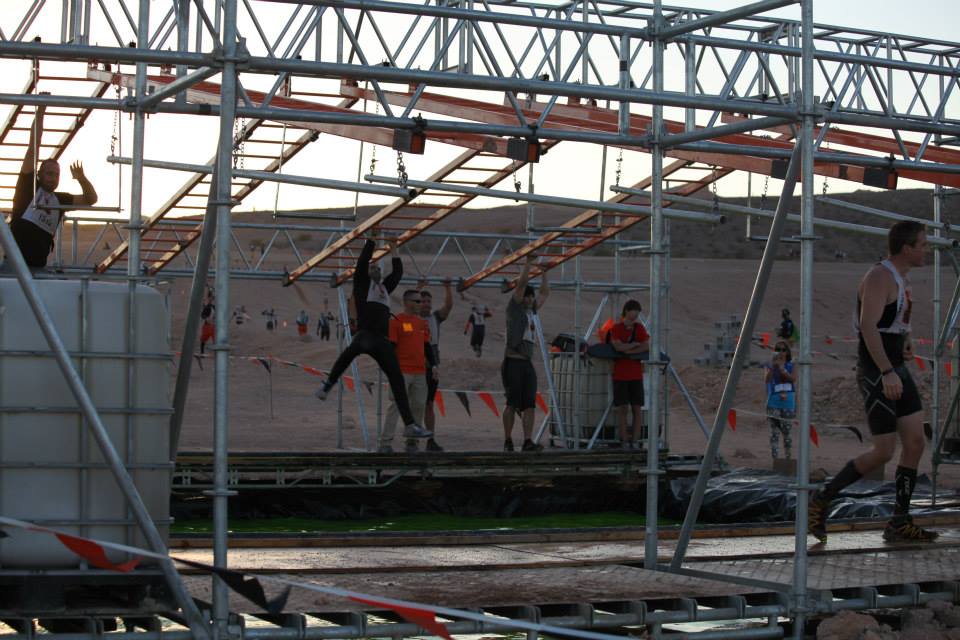 Grabbin Shaft Obstacle
The highlight for spectators though was an obstacle included only at the World's Toughest Mudder called "The Cliff". A 38-foot cliff jump into water that is sure to scare even the bravest competitors. You say you are not scared of heights? Do not worry, the impact, which is like being tackled by a linebacker, is sure to make you think twice when jumping. I chose the method of not looking and just stepping off. Although this saved some mental anguish it did not help with the physical pain. My shorts managed to split down the side and a good chunk of them ended up in my ass crack on every jump.
The Dreaded Cliff
The challenge began at nightfall though. With temperatures dropping lower than expected, 31 degrees, combined with getting wet multiple times on every lap the cold took its toll. Add in wind that averaged 22 mph with gusts in the 40-50 mph range and you have a recipe for hypothermia. Not bad enough? The wind also kicked up loose sand requiring many competitors to wear facemasks to avoid swallowing the dust. Reportedly, several hundred competitors dropped out due to cold. Even Junyong Pak, two-time champion, stopped for the day early leaving Ryan Atkins with less competition for 1st overall.
Even in my wetsuit, neoprene gloves, wool hat and neoprene socks I was still cold. Around mile 50, I almost called it a night due to uncontrollable shivering. I decided to do one more lap and luckily heated up enough to continue the race. As I write this race report one-week later, my fingertips and toes are still numb, but the feeling should come back eventually.
The race concluded with Ryan Atkins winning his second title after covering 95 miles. Amelia Boone took the win for the women completing a total of 75 miles. The course proved to be harder than last year with Ryan covering 5 miles less than the previous year. In 2013, 37 racers managed to earn the 75 mile silver bib and in 2014, just 17 achieved the same level. The race directors came through as advertised with harder terrain, harder conditions and harder obstacles to establish who the World's Toughest Mudder is.
I have completed ultra-distance events before but I think I have found my new favorite event. The ultra-distance format that requires both endurance and upper body strength suits me well. Add to that the friendly atmosphere and it just feels right. The other competitors care about achieving their mileage goals, but how you play the game is just as important. Not once during the 24 hours did I see someone leave another competitor at an obstacle that needed help. Not once did I see competitors yell at each other. Not once was their not positive encouragement from the person in 1st all the way down to the person in 1200th.
If this event sounds awful you can always ease your way into it and sign up for a regular Tough Mudder.  Due to the non-competitive nature of standard Tough Mudder events.  I like to use them as cardio during pre-contest phases of bodybuilding or trial runs and testing equipment for future obstacles races.  
World's Toughest Mudder, you truly lived up to your name. It is definitely the hardest single day event I have competed in and one of the most positive experiences of my athletic career. If you are looking for a new challenge that tests physical and mental strength, this is a great opportunity. If your goal is to complete 15, 25, 50, 75 or 100 miles, there is a place for you at this event. Just make sure you bring a wetsuit and plenty of warm clothes. When you are packing and you are trying to decide if you need that extra layer of warm clothing or extra layer of neoprene, let me save you some time. Yes, you do. Regardless of the stated temperature, the conditions make it seem 20 degrees colder.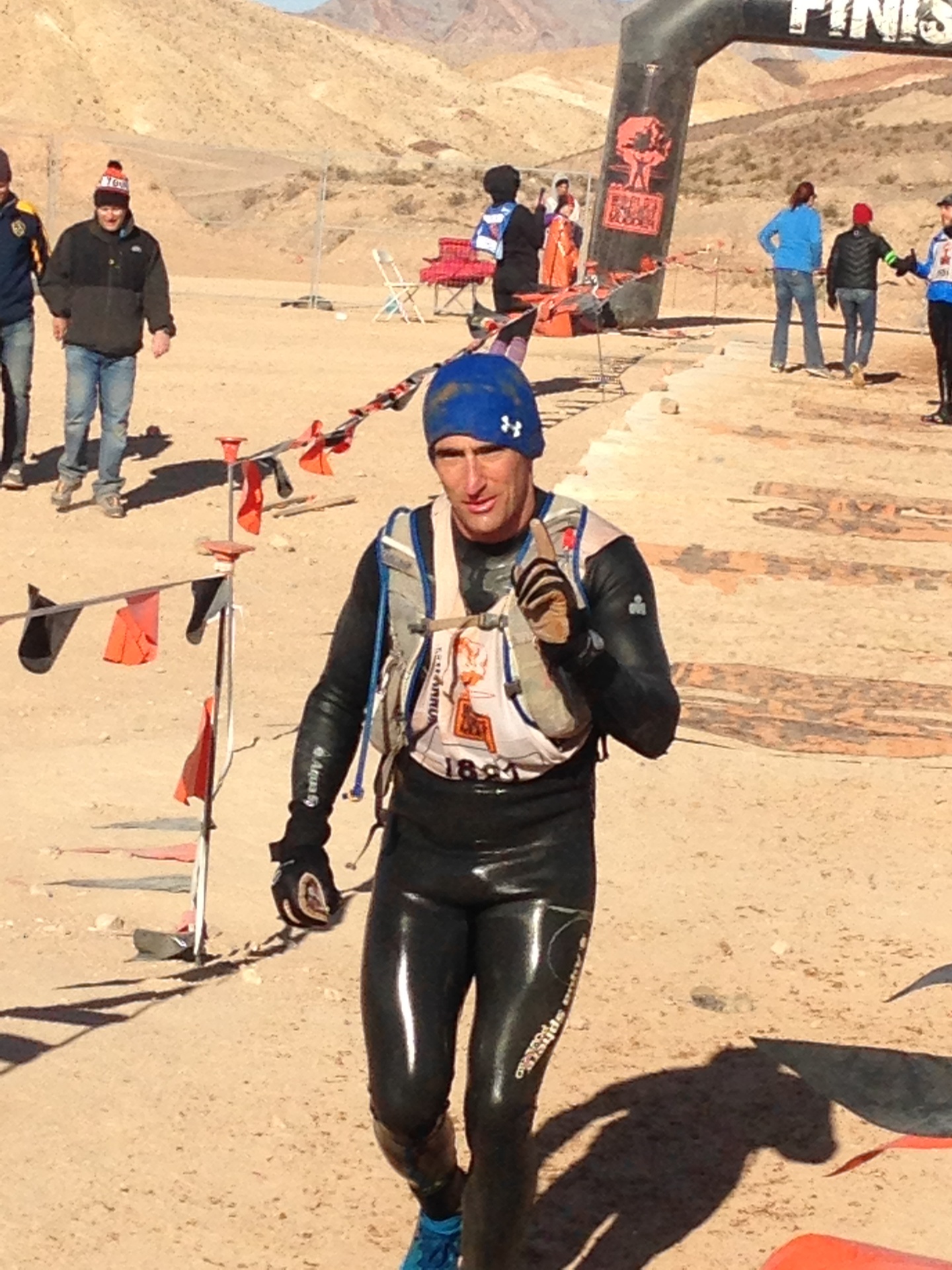 Author with 70 miles Complete, Heading Back Out For One More
How did I do as a first time Mudder? 13th Overall after completing 75 miles….and people say bodybuilders are all show muscles.  I used Hammer Nutrition products, specifically a mix of Gels and Perpetuem to fuel my race performance.  After the first lap I was in 70th but using proper fueling and proper pacing, I gained ground on my competitors every lap.  I will be back next year to race again and I look forward to seeing some of you there.
-Evan Perperis
Video Showing My Placing by Lap
Fueled by Hammer Nutrition products designed for ultra-endurance, I was able to gain ground on every single lap.