Every weekend that I am fortunate enough to participate in the great sport of obstacle course racing, I hear countless people talk about how they love the obstacles and loathe running. I for one am getting the running thing under control as I learn to train correctly for it, but I can empathize with the sentiment expressed by these great people. Dirt Runner has created an event unlike any I have seen up to this point, it is perfect for those who love to show off their strength and obstacle proficiency.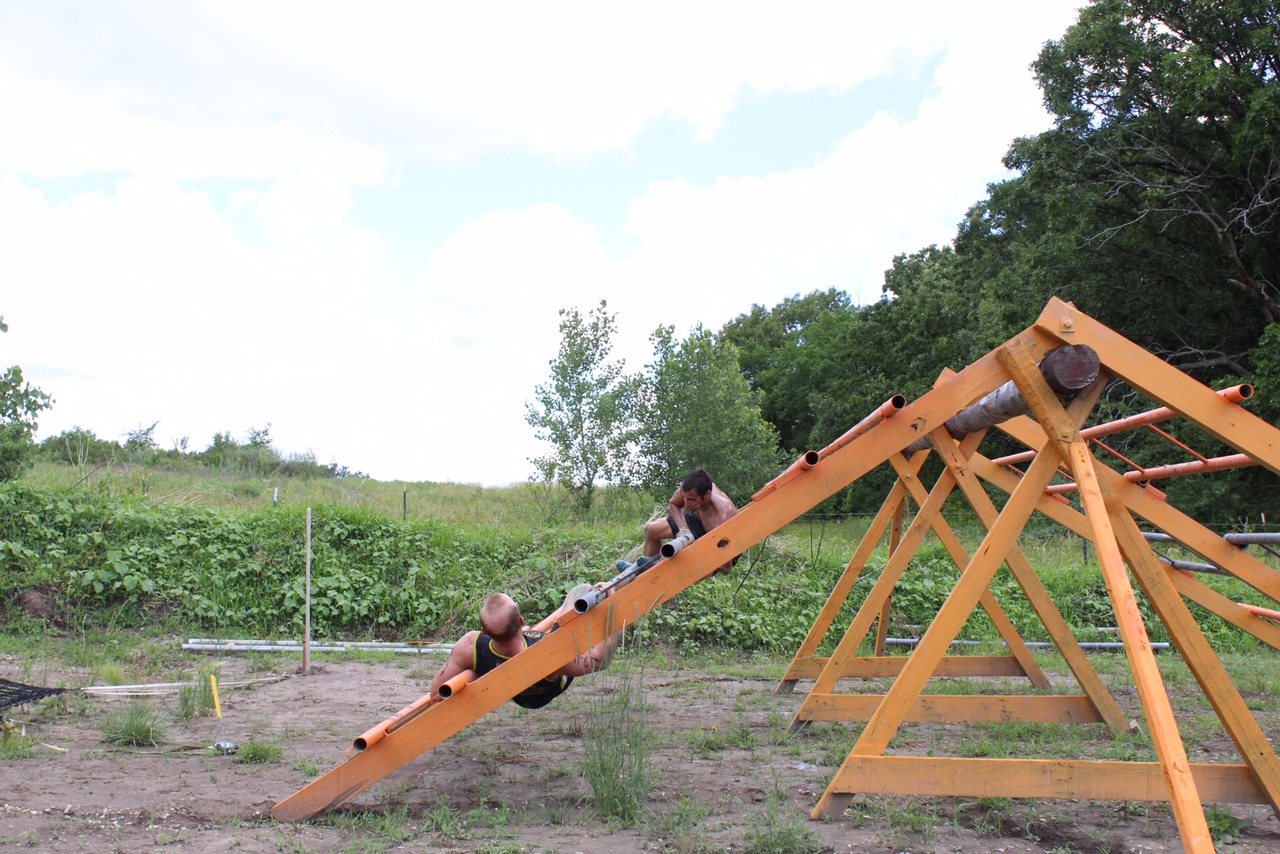 Dirt Runner's DRX Games can best be described as a Pentathlon or Decathlon of OCR skills. I had the pleasure of participating in one of DRX Games in 2016 and placed just off the podium, so I wanted to come back for a little bit of redemption in 2017 and I am glad I did. I will preface this by saying, the turnout was underwhelming. This was for a couple reasons in my opinion, the first being that many OCR athletes who train specifically for racing may not possess the strength needed to place highly in this style of competition. (Sorry if I hurt anyone's ego with that one.) Ultimately, the regular 140-170 lbs. elite racer is going to have a tough time beating a 200 lbs. athlete in a test of maximum tire flip reps for time. The second reason I believe the turnout was lower than last year was the choice to hold this event on Father's Day, Sunday. It's difficult to entice people away from their families on a day like that; I however, made this event my Father's Day gift!
The Venue:
For anyone who attended a Spartan Race near Chicago from 2011 to 2015, you would be familiar with the Cliff's Insane Terrain venue that Dirt Runner calls home. It's hard to describe how cool this venue is, with a multitude of permanent obstacle built on it. One of my favorite aspects of this property is the multiple types of terrain that is available for them to get creative with. The format of DRX Games unfortunately, does not utilize much of the property. Those creeks, ravines, fields and single tracks are reserved for the other events put on at Dirt Runner; such as the DRX Dash, Midwest Mayhem, and Warrior Rush. However, you can come out and train for most of the summer and fall if you look up their training days on the website. (They allow onsite camping as well)
DRX Games takes place in the main festival area, which includes most of their feature obstacles and strength based implements. One portion includes a roughly 300 meter loop with 15+ obstacles back to back.
The Competition:
The DRX Games have to be one of my favorite events in OCR, simply because of the style of competition. Each games event is unique and will feature different challenges. Last year there were Log flips and a spear throw, this time the event consisted of 5 challenges that I will do my best to bring to life.
Event 1:
A giant tire "box jumps" for maximum reps in 1 minute. This was no little tire!! If I had to guess, I would say it was around 30-34" in height for the men, and about 20" for the women. You were required to jump up and stand before dropping back down to the ground for a completed rep. This event required not only the explosive power to jump that high, but also a level of endurance to keep cranking out reps as fast as possible.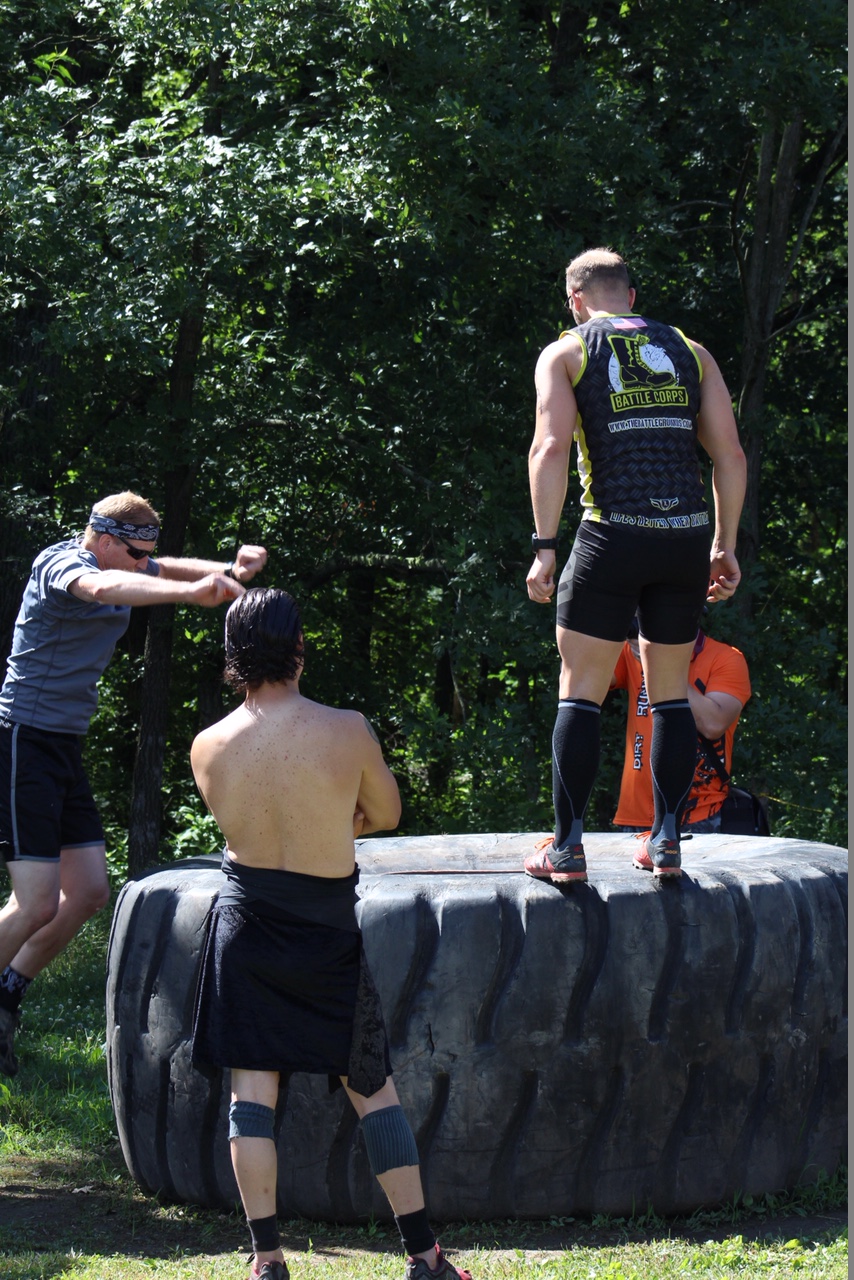 Event 2:
This event named The Dragons Nest, was an interesting take on a tire pull. You had a medium size truck tire pulled out on a 30 ft. rope with a 72 lbs atlas stone sitting inside of it. This event was to be completed for time. When the horn went off you were to sprint down to the tire and pick up the atlas stone. You then carried the stone back to the start point, and proceed to pull the tire all the way to you. Then grab the tire and drag it back out until the rope is fully extended. Now you get to sprint back, retrieve your atlas stone, return it back to the tire where it began and sprint your way back to the start. It's a grueling, heart pounding challenge to test your strength & speed!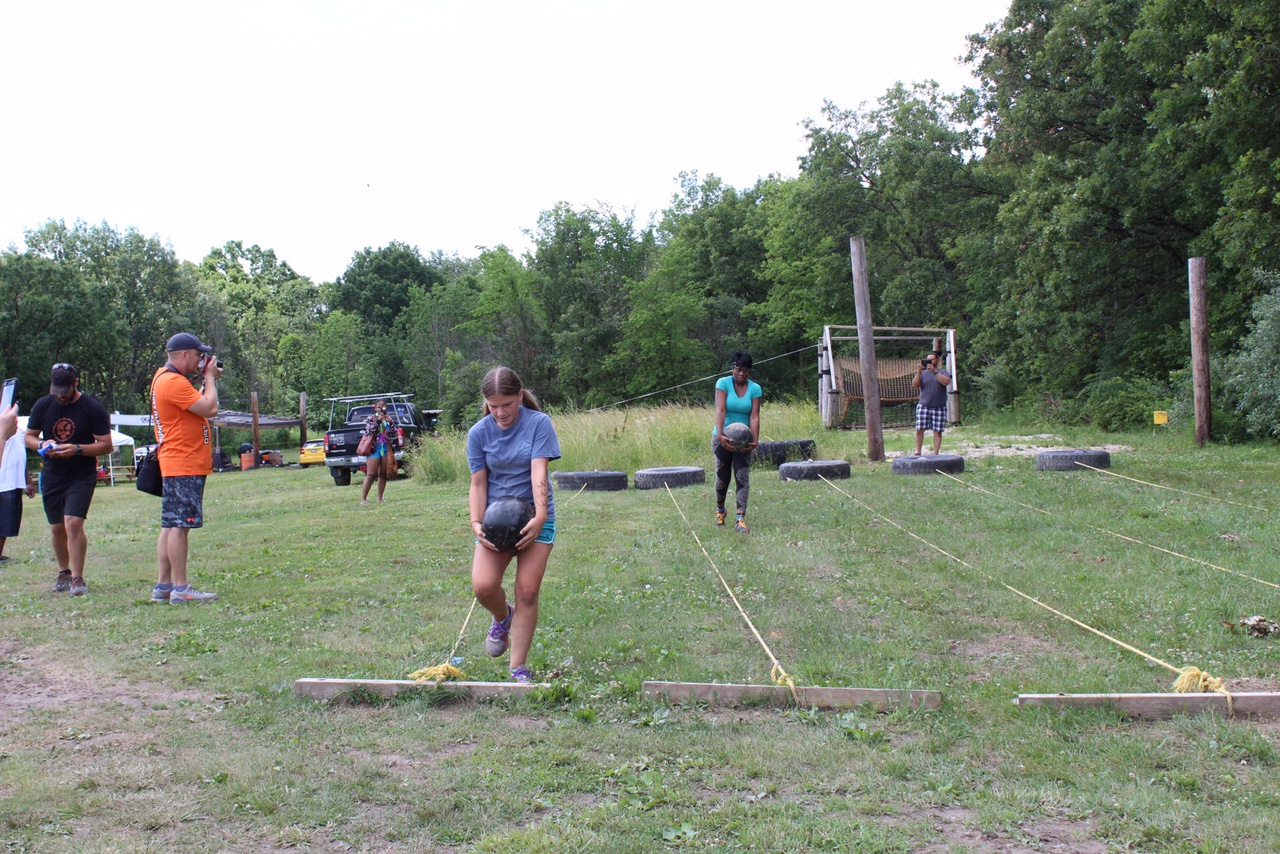 Event 3:
Now that your legs a burning a bit… its time to go flip some tires! They don't let up on you here at Dirt Runner. The tire flip challenge was another time trial test. You were required to flip your truck tire about 15 flips to the other end of the area, then turn around and flip it back to the starting point until it settles around the concrete block it was sitting on. At that point, you must pick up the concrete block and sprint it down to the end of the area and back, returning it to your tire to complete the challenge.
The finish at this one was incredible, and highlighted why I like this event so much. You had a 260 lbs. strength athlete tie with myself, about 195 lbs. Everyone has a chance to compete at the games due to the various challenges, not just a single discipline that dominates.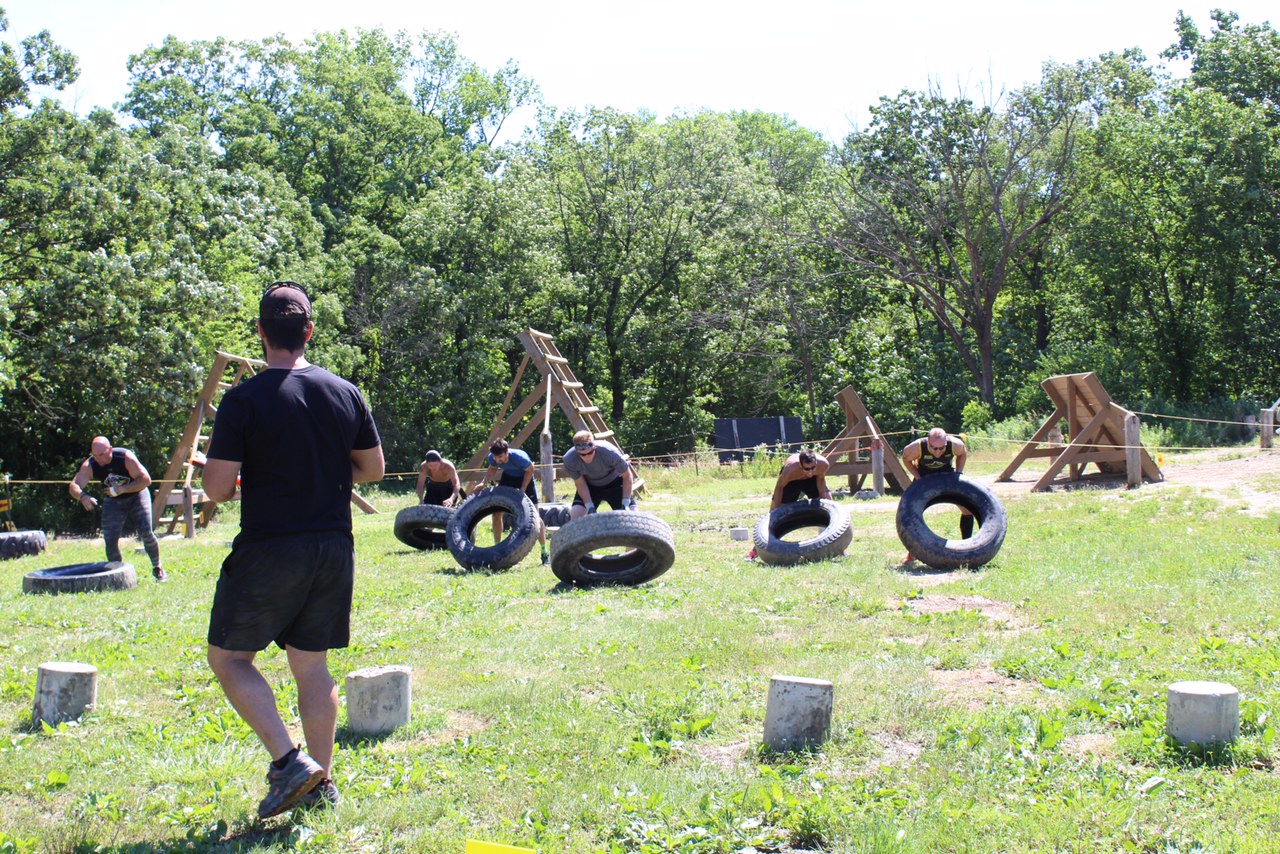 Event 4:
Rope climb time! Taking a break from the strength obstacles, we head over to a technique based challenge. To make these rope climbs more challenging, the competitors were not allowed to jump off the ground to start their ascent. You could only reach up high, and then bring your feet up to begin. Your goal, climb the rope and hit the bell as many times as possible in 1 minute. As usual, those who can climb a rope without using knots placed much higher; so get your rope climbing skills ready if you plan to come out to a DRX Games event.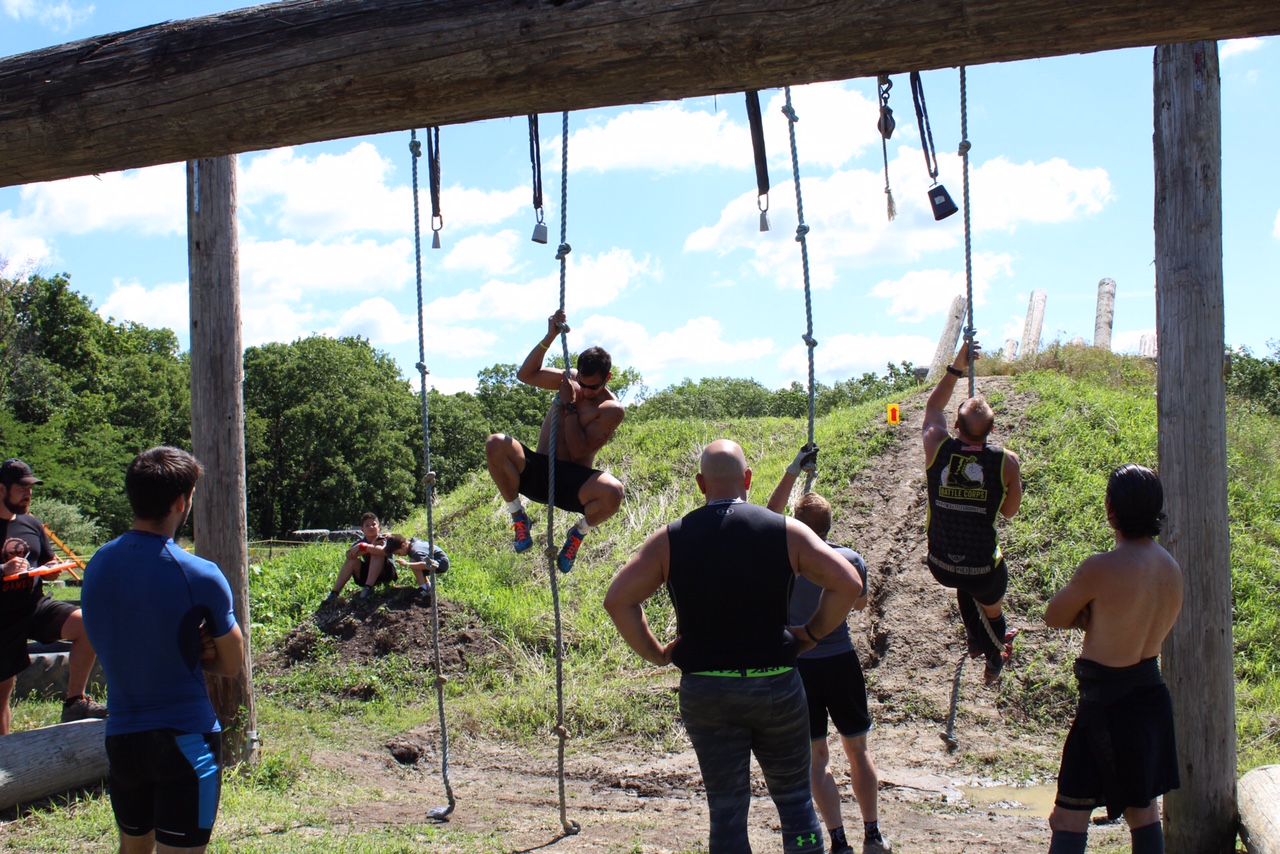 Event 5
The Games always close with a test of speed and obstacle proficiency. Now you get to see how you stack up against the 300 meter DRX Dash course. We had the pleasure of starting the course with a repeat run at the Dragon's next that we previously competed in. This turned out to be an advantage for me, as I won that event the first time we saw it. During the sprint course, the longest stretch of running is about 20 meters before you are tested against another obstacle. These includes a cargo net monkey bar, a giant slip wall, a 150 lbs atlas stone roll, a difficult weaver, and finally finishing up with Dirt Runners take on what most of us would know as the "Tip of the Spear" from the good ole' days of Battlefrog.
By ending the games with the DRX Dash course, it allows you to give everything you have left for this sprint. And there is no better way to end a race than exhausted with the gas tank on empty.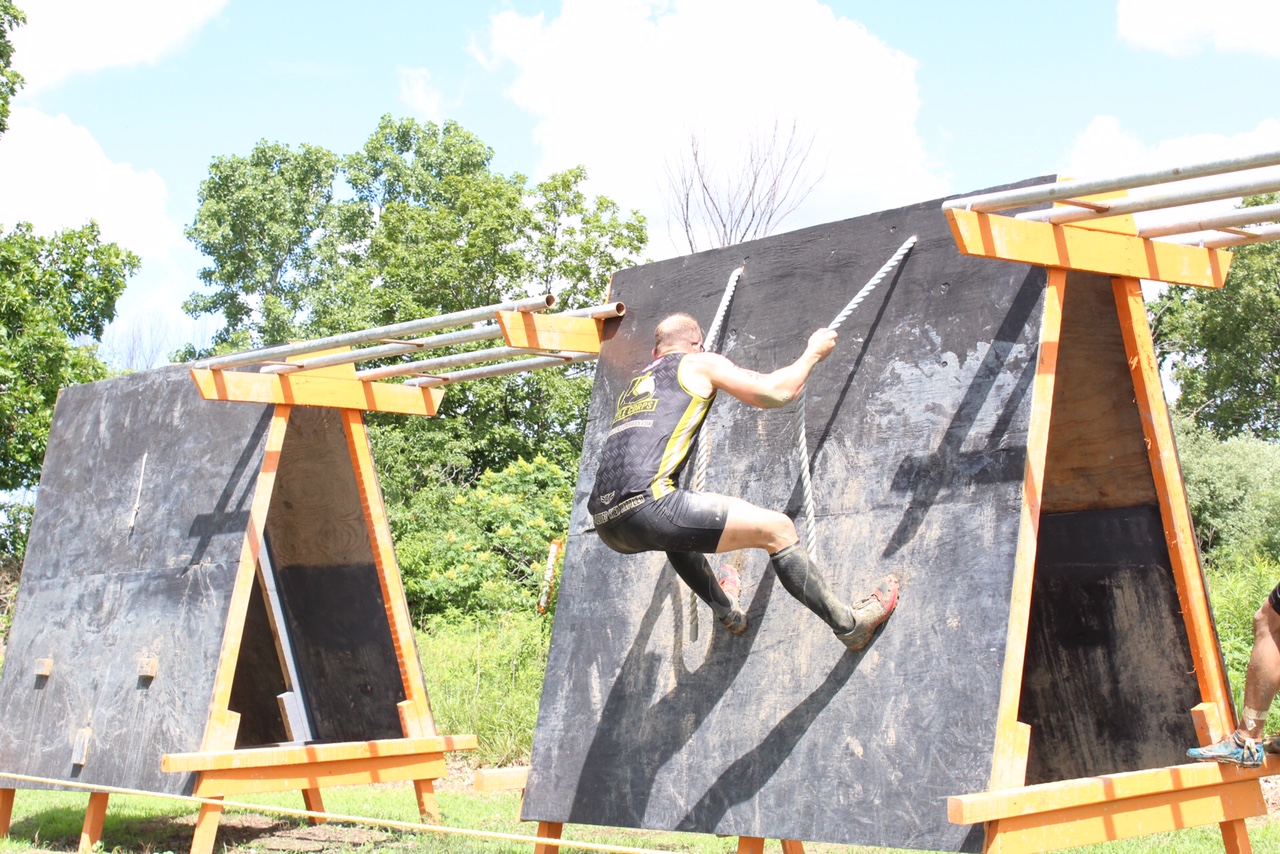 Awards:
Dirt Runner has some of the coolest trophies around. The overall DRX Games series winner in 2016 received full size tridents, the DRX Dash champions won lightning bolts, and the recent Midwest Mayhem champs received swords and golden dragon's heads. This time was no different, the champions received a large golden skull medal with the Dirt Runner orange lightning bolt across the face. This bad boy will look pretty good on my wall!
This may be one of the smaller local events, but every event I attend at Dirt Runner always turns out to be one of the most memorable races of the year. There are multiple options left in 2017, hopefully you can find a chance to experience one of their race formats soon.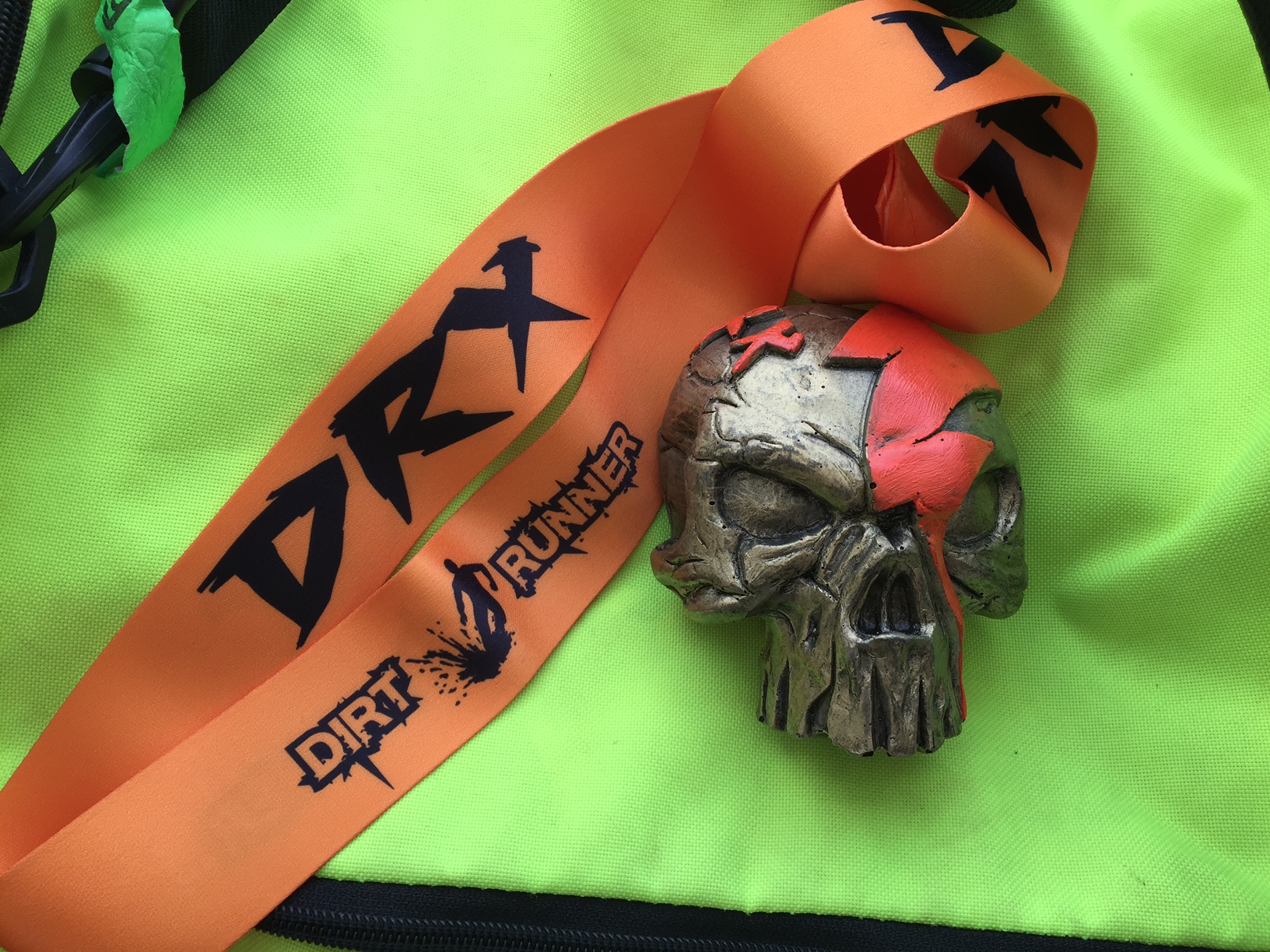 Upcoming events at Dirt Runner:
July 22 – DRX Dash V – Time trial event on the 600 meter 20+ obstacle short course. (Multiple race options, including the Extreme unlimited laps for 60 minutes)
July 23 – DRX Brute - Similar to the DRX Games but with heavy strength challenges
Aug 6th – Warrior Rush Challenge – 5k obstacle course with 50+ obstacles. (Offers a 6 or 12 hour option as well)
Aug 20th – DRX Games VII – The second 2017 games, come on out and see if you can compete for a podium spot.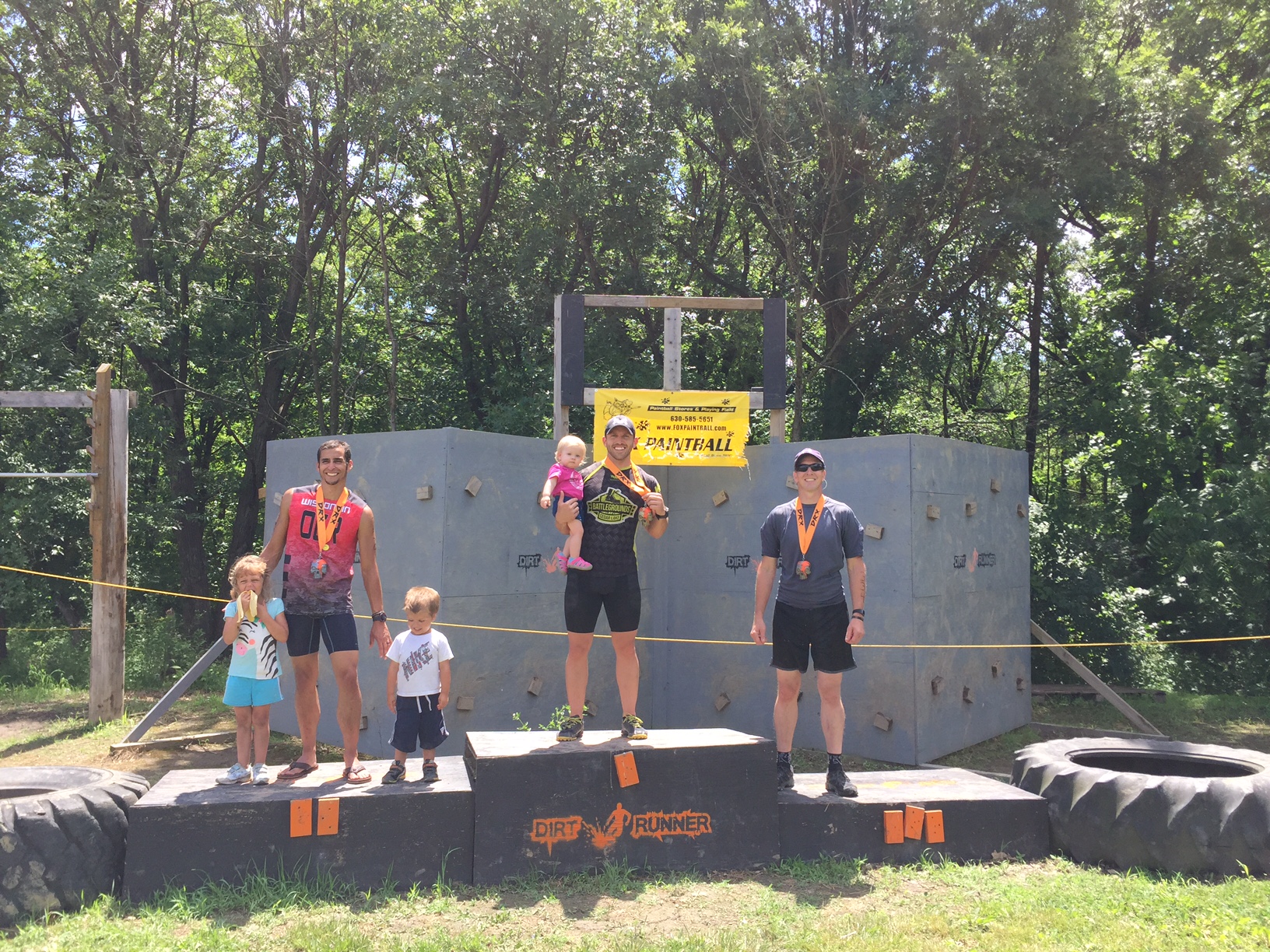 ---------------------------------------------------------------------------
Christopher Balven is a member of the 2016 Strength & Speed Developmental team and a Battle Corps member representing the permanent OCR facility just outside St. Louis, MO.