This past weekend I had the opportunity to race the Rock'n'Roll San Diego Marathon. My sister-in-law moved to San Diego last fall to go to PT school and my wife and I decided to plan a trip to visit her around the marathon (I did the full and my wife and her cousin did the half). I learned early in the trip that I won't plan on running any big races at the end of a weeklong vacation, as tapering and trying to eat healthy are not the best ways to spend time that is supposed to be relaxing.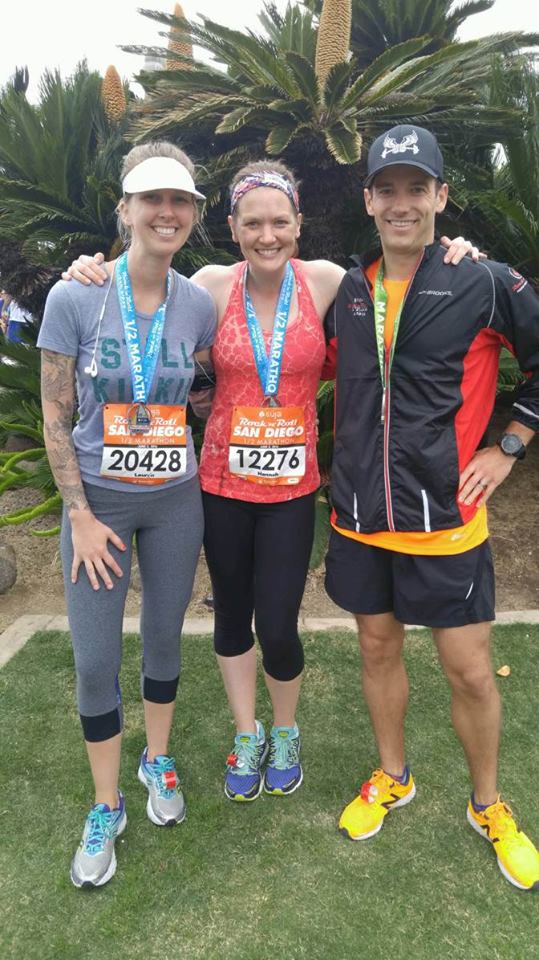 The Training Cycle
I started my official training cycle back in February and loosely based most of my training off the Nike Running App's Coach feature. We had signed up for the race months before, but due to resting a foot with plantar's fasciitis, a work commute that wasn't great for training, and a relatively new edition to the family I had let my training slip to a fairly nonexistent level. I found that my running snapped back relatively quickly, and I was shaving minutes off my 5k time weekly as I approached where I had been last summer.
During my training cycle I took a leap of faith and left my job, which left me with a lot of time to train while looking for work (which I eventually became employed at my dream job, so it all worked out). I was also selected to participate in the Strength & Speed OCR Development Team, which allowed me to get great access to training and nutrition information and gave me a great group of peers to inspire me to aim high with my goals. For New Years I set a number of goals for myself, one of which was to qualify for the Boston Marathon and the other was to run a sub 3:00:00 marathon.
While I had set goals based around marathons, my true passion is OCR and I use my marathon training as a means of improving my aerobic base and running speed. As a result my training was a healthy mix of trail and road running with some weight training and bodyweight WODs mixed in to keep the strength necessary for my OCR events that will start a few weeks after the marathon.
Rock'n'Roll San Diego was set to be my first chance to achieve those goals and I felt 100% confident until May when I got a two-week cold that ended in me losing my voice for a couple days and waking up several nights in cold sweats. After feeling better for a weekend and cranking out a solid 22 mile training run I got hit with a viral infection that left my throat swelled nearly shut and looking like Freddy Krueger's skin. I had to take an entire week off training at what I felt like was a very important phase of my training, missed out on running the Battlefrog Xtreme event in Minnesota that I had been looking forward to since last fall, and caused me to overcompensate in the last two weeks of my taper to regain some of the fitness I had just lost.
The Race (The First 13.1)
Rock'n'Roll started off on a good foot. Their logistics game is on point; they were in contact early and often with pertinent information and the race expo was easily the best of the now four marathons I have completed. There were a ton of booths giving out samples of different gels, gummies, sports drinks, bars, and various health foods. The higher prices of clothing and gear were in line with other race expos I've attended as well.
The morning of the race I had a usual breakfast of oatmeal and coffee about an hour and a half before the race and tried using BeetElite for the first time at a race (I had experimented with it in some time trials during my training with positive results and did a three day load leading up to the race which had been recommended by a few regular users). We walked just under a mile to the start line and dropped off our bags with ease. I looked around and despite the rows and rows of port-a-potties the lines were still incredibly long (note to races with 37 corrals… you can NEVER have too many bathrooms at the start of a race). I was set to start in corral 2, but due to mistiming I ended up starting with corral MEB, in between 3 & 4 by the time I was able to squeeze through the security barrier.
The beginning of the race was extremely crowded due to marathoners and half marathoners being released together and it was hard to get into a good rhythm while dodging around people. I was taken aback by the amount of people that had started to walk within the first two miles given that they had started in early corrals; I would have thought that having prior races times to justify being in an earlier corral they would know enough about race etiquette to know to voluntarily move to a later corral or at the very least to move to the right side of the road, but apparently that's too much to ask. My first few miles ended up higher than what I was realizing was an ambitious sub 3-hour goal, but not so high above that the negative split I had hoped to run wouldn't be able to make up for them.
My late start turned out to be a bit of a blessing because it gave me the chance to shake hands with Meb Keflezighi (2004 Olympic Silver Medalist, 2014 Boston Marathon winner and 2016 USA Olympic Men's Marathon Representative, among other things) who was pacing a group for the half marathon. It was crazy to see how effortless he was maintaining his pace.
I noticed around mile 6 that the course forced us to run on the left side of many of the roads. This worried me because my PT-in-training sister-in-law had recently confirmed that my right leg was longer than my left and I had planned on trying to run on the right side of the road as much as possible to alleviate some of the knee and IT band pain that has started in on later miles in the past. The roads were also cambered more than normal, so I started getting in my own head (a recurring theme of the day) worrying about how I was going to feel later instead of focusing on the present. All the worrying turned out to be for nothing because I had the most pain free marathon I've ever ran.
After the half marathon broke off between mile 7 and 8 the road opened up and I was only able to see a pack of five or six people in front of me. With some room to breathe I set my sights on slowly picking them off one by one and using that as a way to keep myself engaged in monitoring my pace. There were a lot of rolling hills through the first half of the race that I managed well due to my training on trails and was usually gaining ground on those in front of me on the uphills. My pace was getting better and better, and just short of the halfway point we came to a long downhill that I decided to use to my advantage to try to make up some of my slower early miles. I came across the 13.1 mat at 1:31:55, a few minutes off my goal, but within what I thought I would be able to make up on the back half.
The Race Continued (The Second 13.1, where the wheels fell off)
Miles 13-16 went fairly well, I maintained a steady pace and was abled to see some of the race leaders on an out and back portion that I had predicted the night before would be exactly where I would see them. At mile 16 we were down near Sea World and had the flattest second of the course to deal with, which I was excited about because I thought I'd be able to get a nice steady pace going. Unfortunately for me my pace was about 10 seconds per mile slower than my goal pace.
This part of the course is where the angel on my right shoulder and the devil on my right shoulder started to get into an argument. The angel was telling me not to worry, just push a little bit and focus on getting to your BQ pace and you can always push hard for the last 10k if you are feeling good and want to try to get to the sub 3 hour mark. Meanwhile, the devil was telling me that if I couldn't maintain my pace on the flats that I wasn't going to make up that time on the climb up Highway 163 later in the race. Unfortunately for me there was no fan support on this section of the course, so I got to listen to this internal battle for several miles. Even more unfortunate was that the devil seemed to be getting in more punches with each step.
I was doing a lot of mental math leading up to each mile to determine what pace I would need for the rest of the race in order to meet my goals. By mile 20 I was at 2:22:12, and thought that if I had a great final 10k and final kick I could just scrape by with a BQ time under 3:05:00.
By mile 22 things were looking bleak. My legs weren't responding the way I wanted them to. I kept telling myself if I could make the next mile split that my body would maintain its pace, but the devil on my should had landed an uppercut, the angel was on the ground, and the 10-count was starting.
Then came the hill…
I had seen it on the course map and the video preview of the course: an approximately 230ft ascent over the course of a little over a mile from up Highway 163 to get to downtown San Diego. I had been doing hill training for the past three months up much steeper hills to prepare for the Spartan Sprint at Welch Village Ski Resort in Minnesota at the end of June. Spaced out over a few miles that should be no problem. My training should have prepared me for this hill; had it been in the first half of the race it probably would have. But I made a rookie mistake in my preparation by thinking running steep hills on fresh legs would translate to a sustained climb at the end of a marathon after over two hours of pushing myself. I broke the cardinal rule of specificity of training and quickly realized I was going to pay the price. I kept making demoralizing glances at my watch as the numbers for my pace and heart rate kept creeping higher and higher. The hill seemed to be going on a lot longer than I had remembered on the map and there was no end in sight. For the first time I walked through an aid station to try to clear the fog from my brain and realized I would have to run a 5k PR to get a BQ time and I still couldn't see the top of the hill.
The 10 count was over and the little devil on my shoulder was dancing around with his new championship belt. I had never felt so demoralized during a race before; I barely kept my pace above a shuffle for the remainder of the hill while I kept thinking about all the things that had gone wrong leading up to the race and what I could have done to get my time. Once things flattened out I picked up my pace slightly in an effort to pass some runners that I can only assume from the dejected look on their face had also been humbled by the hill. After the course joined back up with the half marathoners there were a lot of fans and I was able to draw enough energy from them to step up my pace before finishing in an official time of 3:12:15. Playing head games again, I was unable to find any glee in setting a new PR by five minutes, and instead focused on all the things I didn't do.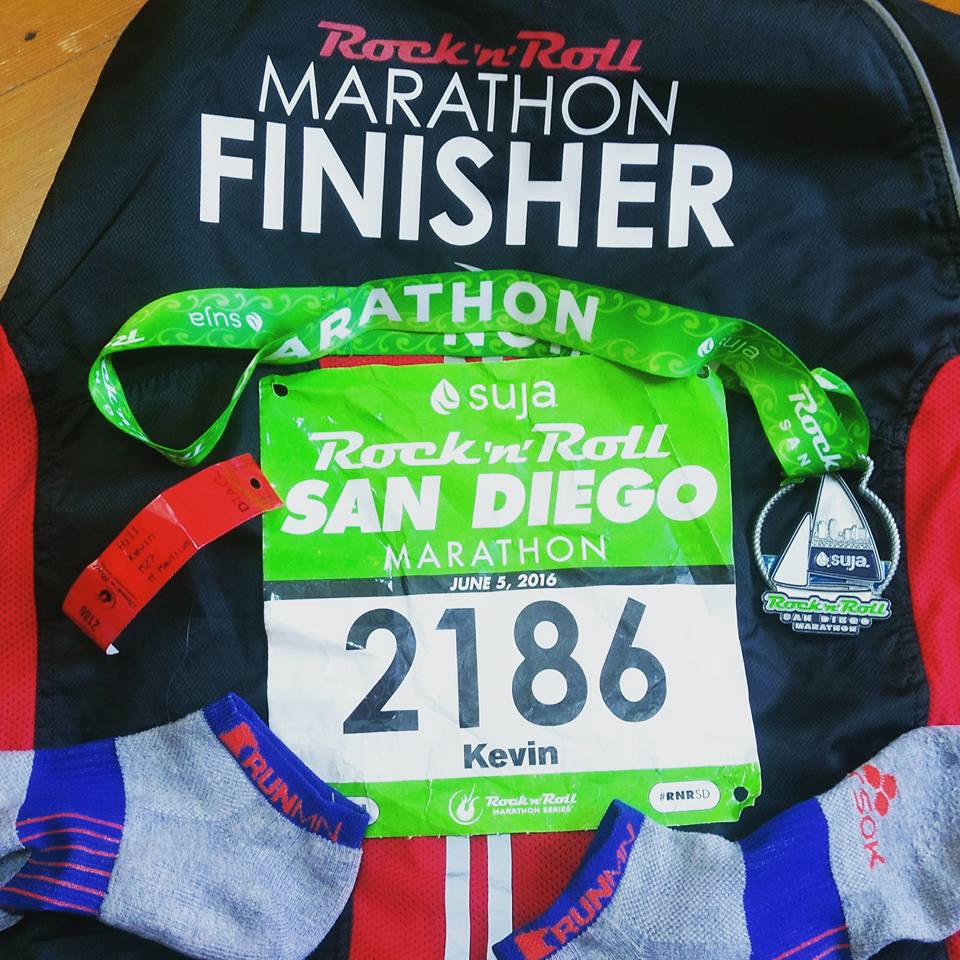 I crankily made my way through the throngs of people at the finishing line to get my medal and jacket so I could sit and digest what happened. It took me a while to realize that while I could have been better prepared for that hill and things would have been better if I hadn't gotten sick leading up to the race, I beat myself. I am usually very strong mentally. Last year at the St. Louis Marathon I was able to will myself to shattering my old PR by fifteen minutes and beating my goal for the race by five minutes. But upon reflecting I had beaten myself before the race started. I'm not the firmest believer in positive thinking, but I know I had overanalyzed and put enough doubt into my head about what had gone wrong that I would have had to have woken up feeling like a million bucks to overcome what I had put in my head. Unfortunately that wasn't the case.
On the positive side, there is nothing like a missed goal to light a fire within you. I found the chinks in my armor and know how to train smarter for my next race (and select a more friendly race for my next try). More importantly, after having a day to think about it I am happier with my results. I was able to get a new PR despite some setbacks and feel out what my fitness base is so that when I start my next training cycle I will have to improve less to meet my goals next time I take a stab at them.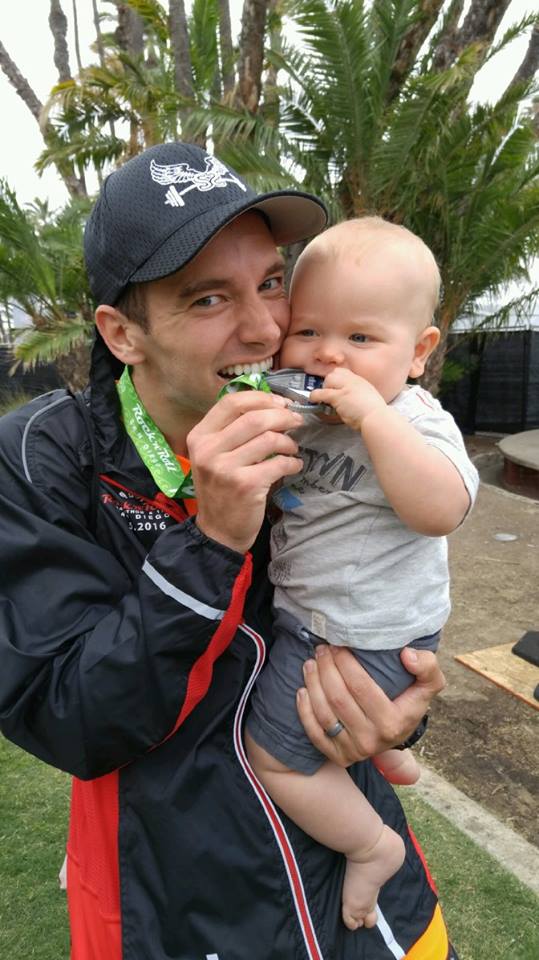 ---------------------------------------------------------------------------------------------
Kevin is a member of Team Strength and Speed's OCR Development Team. He is a running and OCR enthusiast in the pre-dawn hours and weekends, but spends most days as a criminal prosecutor in Carver County Minnesota.