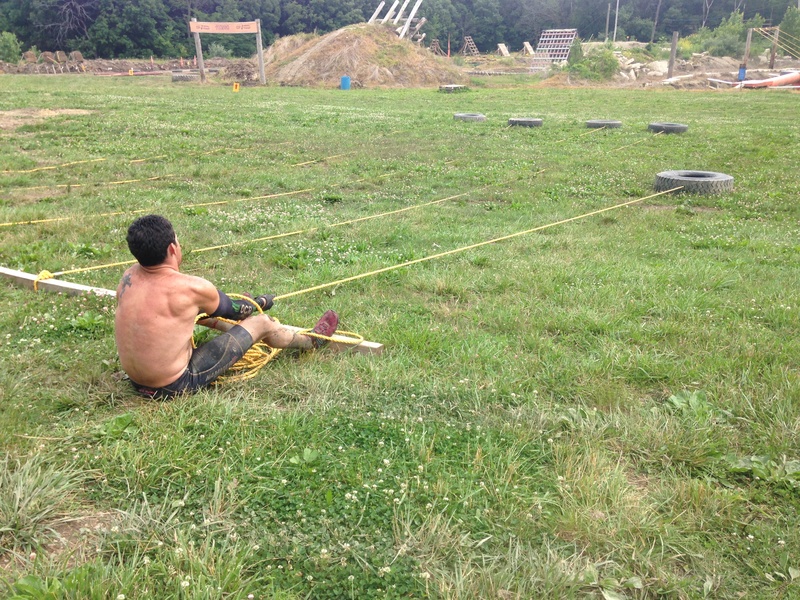 The event, OCR America, would have abruptly ended here if it was not for my pit crew. Sty, drove 12 hours through the night to arrive at the site of Dirt Runner just outside of Chicago, IL. This was a task that would have been impossible for me to accomplish based off how tired I was from the week. Dirt Runner is a unique course unlike most of the other permanent OCR facilities because they actually move a lot of their obstacles around for different races they hold throughout the year.
     Besides a standard 3-5 mile race, they also have a couple of variants like the DRX Games (1,000m short course OCR), night OCRs and an area specifically for ninja warrior type training (pegboard, warped wall, salmon ladder and cushioned rolling balance logs). Their venue has also been used in the past by race companies such as Spartan and BattleFrog.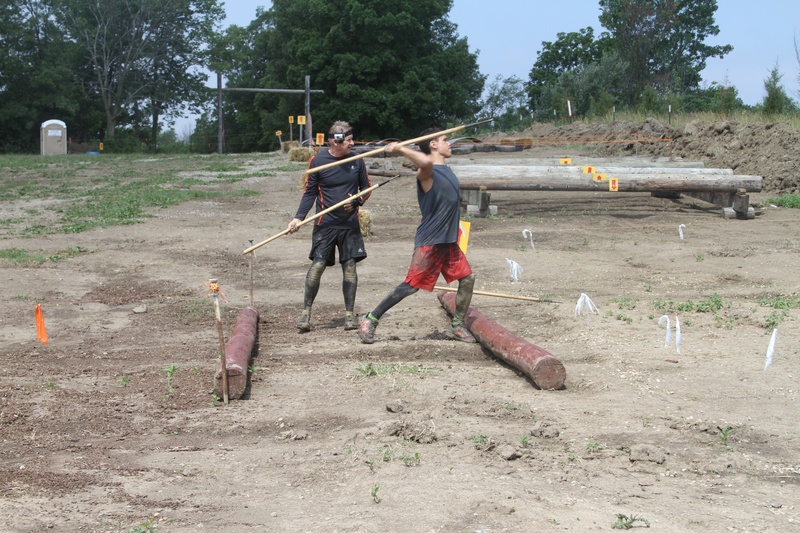 It was another hot day on Day 6 and having slept in the car the night before I was not very well rested. Takis, the race director for Dirt Runner, had setup his course for the upcoming DRX Games, so I had to adapt to this new setup. It meant, I would be running large sections of the course in the woods hitting the permanent immovable obstacles, then come back to the main area where I would run through a gauntlet of about a twenty five obstacles over 350m of terrain.
     If you are a big fan of Spartan Races, then you would love Dirt Runner. They had a lot of carries including logs, cement blocks, Atlas stone relays and buckets. They even added a couple of twists to some favorites. For example, the Atlas stone comes in three different sizes and for DRX games you are required to run around the far side of a flag with each stone. The log carry, although fairly short, required crossing a small pond in the middle of the carry, which had water that was almost up to my shoulders. The bucket brigade is called the Dirty Bucket List, which requires carrying two buckets Jerry Can style for a small loop and immediately doing another loop with just one bucket. Finally, the Ares Spear Throw is a double or nothing type throw. If you miss the first spear you can do 30 burpees or take your chances with spear number two. If you land spear number two, there is no penalty…but a second miss means a 60 burpee penalty.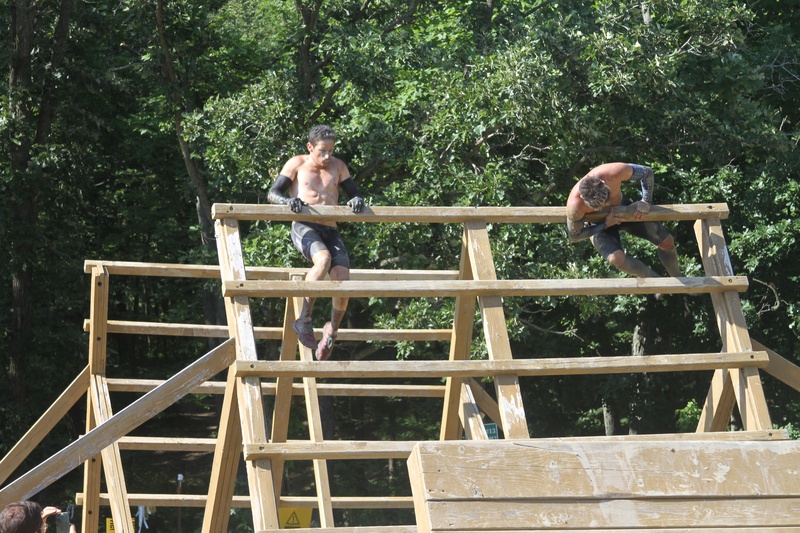 There was also several crawls that tested both the mind and the body. I have never been claustrophobic, but there were several tunnel obstacles that put this to the test. One tunnel obstacle was super long and downhill, another was also long and had pits mid tunnel, which were hard to see in the dark. Finally, one of the drainage pipes we went through was so full of water there was just a tiny gap of air at the top. Normally, if the situation was the same on race day, this drainage pipe would have been closed….but being bold, I decided to put myself to the test. On most laps, my head completely submerged for the last couple of feet of the obstacle due to the level of the water and lack of space in the drainage pipe.
     I would be remiss, if I did not mention the unplanned obstacle that scared me most, our encounter with our furry friend. On lap 3, Sty and I ran into a baby raccoon that was blocking the trail, which also had large mud puddles. Since I was exhausted from six days of racing, Sty took lead. He grabbed a (not so) long stick, and tried to scare it off. The baby raccoon hissed and barely backed up. Sty made his way across the puddle and continued to swat at the raccoon. With Sty swatting, I made the leap past the raccoon. We both ran off with an angry baby raccoon sitting in the trail.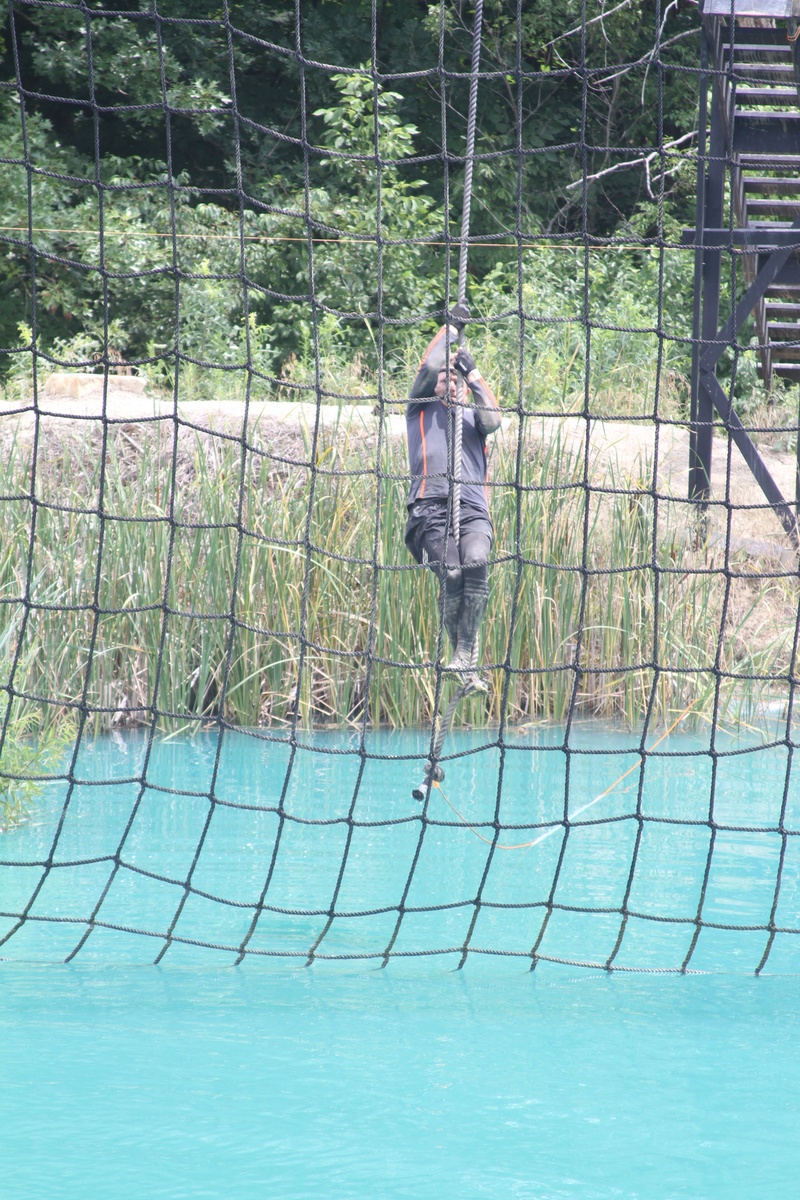 Back to the obstacles manmade obstacles, my two favorite obstacles were the unique Tarzan Swing, which involves swinging on a rope to a net above water, and the final obstacle. The final obstacle is a series of telephone poles sticking out of the side of a hill. Both of these obstacles are very visually appealing to spectators and a lot of fun for participants.
     It was a low participant day and for first time of all of OCR America I ran laps by myself. After finishing lap one by myself a couple of other participants showed up to run the course but were out on the course before I started lap two. Sty, after a brief 1.5 hour nap, was back on the course and ran the final two laps with me, pacing me through the finish.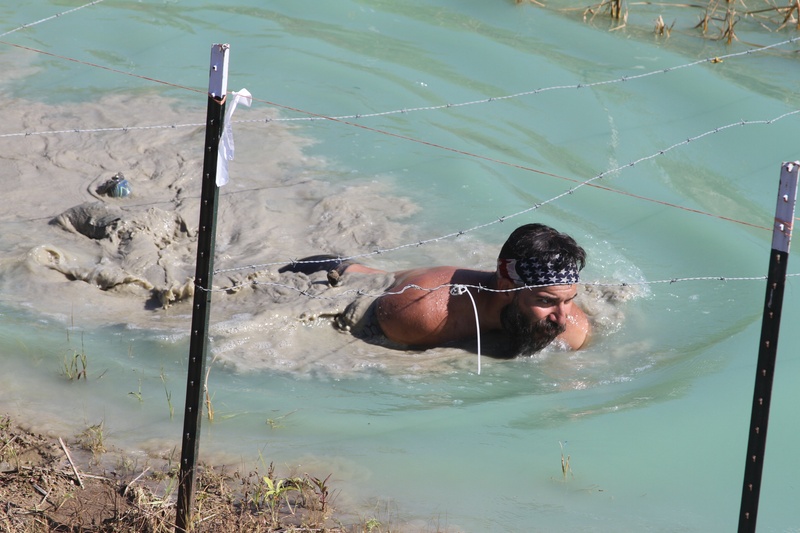 On Lap 3, I sustained my first injury of OCR America. After climbing out of shin deep mud, I slipped on an uphill balance beam landing on my hip then bouncing and hitting my shoulder and head before I hit the ground. It was painful, but after a quick assessment decided it would be achy for a while but would not stop me from walking and/or running.
     The wooded parts of the course had so much technical terrain that running was almost impossible. I ended up walking a lot of the course and had a to get off the course between four and five p.m. to make it to the next venue, resulting in a low mileage count for the day. It was the most technical terrain I would encounter all week. We finished after I had spent about 8 hours on the course in time to shower and drive directly to the next venue Conquer The Gauntlet in Oklahoma City.
Donation Link for Folds of Honor
DAY 6: Dirt Runner Stats: 18 Miles, 4800 feet of elevation gain, 200 obstacles, 1800 calories burned
OCR America Total: 142 Miles, 30149 feet of elevation gain, 938 obstacles, 14768 calories burned
Daily Overcome and Run Podcast Recap Link
This is an abbreviated excerpt taken from a working copy of my OCR America digital book, scheduled for release in 2017.