| | |
| --- | --- |
| Posted by Strength & Speed on March 15, 2017 at 4:05 PM | |
                If you have not looked into the value of adding some mental training to your repertoire you are missing out on achieving your peak performance.  I covered a little bit of the importance ofmental training in my book "Strength & Speed's Guide to Elite ObstacleCourse Racing" but there are so many topics to cover, I could not cover mentaltraining in depth.  To truly understandall the benefits it really requires a book focused on just mental training.
                I recently picked up Matt Fitzgerald's book "How Bad Do You Want it" and wasblown away with how great his book was. He provides real life scenarios of top level athletes using the power oftheir mind to unlock their full potential. He takes examples of athletes like cycling's Thomas Voeckler, GregLemond and Cadel Evans explaining how they could summon super-humanperformances when the conditions were right. Add in some running examples of Sammy Wanjiru, Jenny Simpson and StevePrefontaine and you have an all-star line up of truly amazing stories. 
                I personally thought it was the best book on mental training that I have read sofar.  It is definitely something I planon reading again as I get ready for major competitions.  The stories included in the book and thescience that supports them will help you create your own stories of greatness.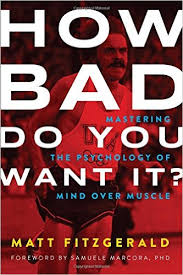 His book was go good, I wanted toread more on unlocking my personal mental potential and immediately picked upanother book called "The Champion's Mind" by Jim Afremow.  With such high expectations, I wasimmediately disappointed.  MattFitzgerald is heavily involved in both competing in running/triathlons and anexperienced journalist.  His bookreflects that.  Jim's background is inpsychology and his book reflects that.  Althoughhe works with athletes, he is not a high level athlete himself unlikeMatt.  Matt understands the importance ofthings like reserving mental strength for races , periodization, trainingcycles, peaking and the importance of rest. I felt like Jim's book did not reflect that as well focusing more onjust doing your best every day.  In reallife when you give 100% everyday, that leads to burnout, injury and loss inmotivation.  Unlike Matt's book, I won'tbe reading Jim's book again.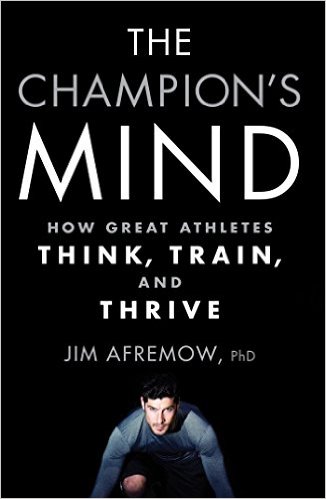 Matt used real life examples andJim's book is filled with fictional stories that don't necessarily translateinto real life.  Bottom line is if youare looking to pick up a good book on mental training, buy How Bad Do You WantIt".  "The Champion's Mind" fell short ofexpectations.