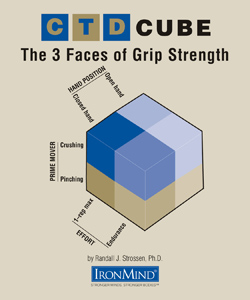 If you missed the last post about Ironmind's methodology for training, be sure to go back and review it now. Now that you have a basic understanding of the 8 facets of grip strength, we will examine some of Ironmind's more popular products to help you improve specifically as it relates to Obstacle Course Racing.
Crushing:
Closed Hand:
Captains of Crush (COC) Grippers: COC Grippers take gripper training to a new level. These are not the cheap grippers you will find a sporting goods store where you can do 30 repetitions while driving your car, these are serious training tools that require concentration and time spent in the gym, just like any other exercise. They provide strength along a full range of motion by stressing open hand crushing at the beginning and closed hand crushing at the end. They come in various strengths from Novice (rated at 60 lbs.) to Number 4 (rated at 365 lbs.). I recommend purchasing 1.5 or lower since I have yet to meet someone in person that can consistently close a Number 2.
Little Big Horn: Little Big Horn is an attachment that is shaped like the point of an anvil. This unique shape provides closed hand crushing training by presenting an odd shape to grab. This can be used not only for low rep near max lifts for strength improvement, but can also be used as an attachment to a pulley machine for endurance focused training.
Silver Bullet (and Silver Bullet Disc): Using a COC Gripper with the Silver Bullet accessory you can change COC Grippers from low repetition maximum strength training to primarily endurance focused. Closing the gripper with the silver bullet in between the legs of the gripper allows you to hang weight from it and hold the gripper closed for time.
Any other thin bar training options (such as a normal dumbbell or barbell): This does not require specific tools but anytime you grab a bar in the gym, that is crushing closed hand training. Whether that involves regular pull-ups or standard dumbbell farmers carries, you are working crushing, closed hand and endurance.
Open Hand:
Rolling Thunder: Rolling Thunder is a thick bar attachment where the center can rotate. The standard method for using this is attaching it to a loading pin and doing one arm deadlifts. However, it can also be used as a handle for almost any exercise you would normally use at the pulley station from one arm lat pull downs, to reverse grip tricep extensions to single arm curls.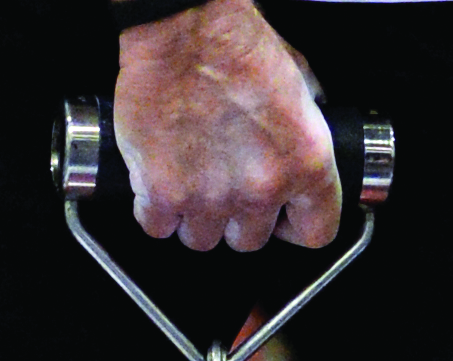 Eagle Loops: These are fabric loops for your fingers that attach to a dumbbell or pulley machine. By putting your fingers through the loops, it forces your hand into an open hand position while exercising. They can be used for lat pulldowns and cable rows, but they can also be attached to a dumbbell for things like bent over dumbbell row. Using less than the full four fingers in the Eagle Loops can help target individual fingers along and in focus on specific parts of your forearms.
Endless Loops: Although endless loops are not a tool that can be used by themselves for grip strength training, they can be used to build a rig. By looping the sewn heavy duty fabric loops over the crossbeam of a pulley machine and adding in different grips like rings, climbing holds and ropes, it creates a mini-rig in your gym. This allows you to practice traversing from one side to the other and then back to the beginning. The medium, long or extra-long loops are going to provide you with an appropriate length of material to ensure you can tie a girth hitch over the crossbeam and on the attachment.
Any other thick bar training options including Olympic Husky Handle Dumbbell Bar: Whenever you grab any thick bar or oversized handle, it is also working open hand crushing strength. This can be accomplished through a special bar or simply by doing pull ups on different objects like the crossbeam of a pulley station, support structure of a squat rack or the top of the Smith machine. Basically look around the gym and be creative when choosing where you plan on doing pull-ups.
This Is just a sample of crushing grip training options using a mix of store bought equipment (from www.Ironmind.com) and objects already in your local gym. Not everything needs to be purchased to enhance your grip strength training, but having a couple of products with you in your gym bag can help take things the next level. Finally, as you continue your grip strength journey, be sure to be creative and find your own awkwardly shaped objects and techniques for training your grip.