Pinching
Last article I covered crushing, which is the main prime mover for grip strength related to Obstacle Course Racing (OCR). Crushing is where you should spend the majority of your effort and the majority of your money when purchasing grip tools. However, having good pinching ability is still relevant for a couple of reasons. First, it creates a well-rounded athlete. Second, you never know what the course designers are going to throw at you.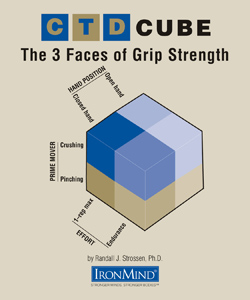 Since pinching is less relevant to OCR, I would spend my money first on crushing products and improvise for pinching products. However, if your birthday wish list still has a couple of empty spots on it, here are some options:
Closed Hand:
Blockbuster Pinch Grip: The Blockbuster Pinch Grip is essentially a block with an eyelet at the bottom, which allows it to be connected to a loading pin or a pulley machine. Just as with any attachment, this can be used an a pulley machine to turn any of your exercises into a pinch grip exercise such as upright rows, one arm triceps pull-down, one arm lat pull-down, lateral raise, reverse lateral raise or front raise.
IMTUG: IMTUG are what appear to be mini-grippers. However, IMTUG are not grippers for children, they are smaller versions of their big brother Captains of Crush (COC) that are designed for individual finger strengthening. By using only a couple of fingers on IMTUG you can improve your pinch grip along with strengthening individual digits. Just like COC, there are various levels to test your pinching ability. Unlike COC, the IMTUG are rated differently so just because you can close an IMTUG No. 3 do not think that you will be able to close a COC No. 3.
Pinching thin plates together: Without buying any fancy equipment you can still train pinch grip by plate pinching. Pinching two plates, whether they be Olympic style bumper plates or the standard barbell plates (you will probably max out at 25 lbs. plates for both, style of plate and exercise dependent). These can be used for low carries, holds for time, shrugs or upright rows. All work muscles in your upper body while simultaneously enhancing your pinch grip.
Open Hand:
Hub: The hub is designed after the center hole of a York 45 lbs. plates. Although you can still find gyms with York plates that allow for hub lifts, most people I have met cannot lift the 45 lbs. plate initially. By purchasing the hub you can incrementally work your way up to the 45 lbs. goal using either the loading pin to add weight or a pulley machine.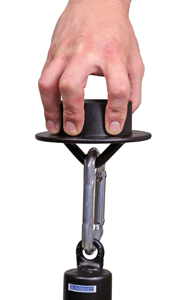 Titan's Telegraph: If you are looking or a piece of equipment that just does pinch gripping, then Titan's Telegraph is for you. The machine looks like a giant telegraph that you add weight to and practice pinch griping closed. If the little IMTUG gripers are not doing it for you, this will take training to the next level and allow you to find tune the amount of weight you are adding to your pinch grip training.
Pinching thick plates together: If you do not want to spend the extra money, pinch grip training can be accomplished by pinching plates together. To work your open hand pinch grip try using thicker plates whether that be thicker versions of standard plate loaded weights in your gym or the rubberized Olympic plates. Just like training with thinner plates while pinch gripping, these can be used for low carries, holds for time, shrugs, upright rows or even lateral raises.
With many options for pinch grip training from Ironmind and around your gym, a well-rounded training routine using all aspects of the cube will help advance your grip strength. Although not the primary grip facet used for obstacle course racing (OCR), you should not neglect pinch gripping in your training. After all, the world of OCR is constantly changing and the only real limit is the imagination of the course designers.