OCR has maintained the reputation of the party boy/girl lifestyle since the inception of the sport. And let's face it, after a hard fought race who doesn't want to celebrate with a few brews and good company in the festival area? Although the occasional post-race splurge is unlikely to dramatically affect performance, drinking in the days leading up to the race may be a concern. Research provided by the US Olympic Committee (USOC) indicates that binge drinking can decrease athletic performance by up to approximately 11.4% for up to 72 hours. This is particularly important for championship race series (example: OCR World Championships) that have three days of events or the ultra-endurance races (WTM, Toughest Mudder, Bonefrog Endurance, etc.) that last several hours. Alcohol consumption can affect performance through many mechanisms which include:
● Diminished motor skills, balance, coordination, and reaction time
● Poor circulation to muscle tissue and significant reduced strength/power output
● Increased risk of injury in athletes who drink vs those who do not
● Impaired use of carbohydrate and fat for exercise
● Increased rate of perceived exertion during exercise
● Imbalances of testosterone and estrogen which may contribute to a less than ideal body composition
● Disruption in sleep cycles which can inhibit physical and cognitive recovery from exercise
● Fluid losses and imbalanced electrolytes through diuretic effects
● Increased energy intake from nutritionally sparse sources that include the alcoholic beverages themselves and associated poor dietary choices while inebriated
How much is too much? Binge drinking is categorized as more than two alcoholic beverages per two hours. But how much is considered "one" drink? Generally, one drink is 12 ounces of a beer/cider/cooler with 5% alcohol content, 5 ounces of wine with 12% alcohol content, or 1.5 ounces of liquor with 40% alcohol content. Regardless athletes are encouraged to restrict their daily alcohol consumption to <2 drinks per day and it would be optimal to omit regular alcohol use.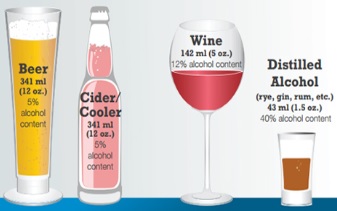 Diagram and content courtesy of the USOC Sport Nutrition Team
With all of this being said, if you are an individual who races in open heats or non-competitively with no goals other than to finish a race -- a couple of drinks with your buddies the night before isn't going to make a large impact….. BUT if you are A.) An athlete who takes performance seriously or B.) Racing a more demanding event (multiple day series or ultra-endurance race) it is highly advisable to avoid alcohol consumption at least 48 hours prior to competition.
---------------------------------------
Luc is a registered dietitian with his M.S. in Nutrition and certifications in personal training and wellness coaching. Luc hones his professional skills through counseling athletes/fitness enthusiasts and through his career as a clinical dietitian at East Carolina University. As a member of the Strength & Speed Development Team, his main hobby is competitive obstacle course racing with notable appearances at Obstacle Racing World Championships (2014-16) and a 50 mile completion at Worlds Toughest Mudder 2013. Luc can be followed through his facebook (www.facebook.com/lrlabonte) and Instagram (www.instagram.com/lrlabonte_ms_rd_ld/) accounts.