| | |
| --- | --- |
| Posted by Evan Perperis on April 16, 2017 at 11:40 AM | |
      "Everyone I know that took steroids looks like crap." I have said it before and I will probably say it again in the future. I am not referring to the damaging health effects of steroids but I am referring to the quality of their physique. If you are reading this, you may be thinking I am saying steroids do not work effectively at building muscle. That is also not what I am saying.
      What I am saying is that most of the people I know who have admitted to anabolic substance use currently have mediocre to poor physiques. People who I work with or have trained with that used Performance Enhancing Drugs (PEDs) usually look like crap because they were missing the key ingredient to begin with….consistent hard work. Most of the guys I know who turned to PEDs is because they were looking for the quick fix from a couple months of hard work. However, eventually other things take priority, the drugs become too expensive or they just lose interest. The missing ingredient, consistent had work comes back to bite them in the ass.
      Once they stop using and the major effects of the drug wear off, their shitty work ethic shines through. This leaves them with less than exceptional physiques, often leaving me with the thought "You used steroids?!?! Maybe you should ask for a refund."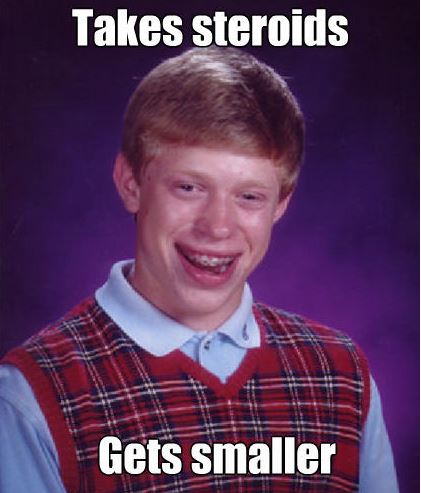 There are obviously a ton of exceptions to this as demonstrated by hundreds of bodybuilders and physique competitors just one Google search away. There are also a ton Facebook and Instagram which are also just a click away. Consistent hard work plus PEDs will produce significant results as demonstrated by Lance Armstrong, Alberto Cantador, any professional IFBB bodybuilder, Rita Jeptoo or Justin Gatlin.
     If you plan on using PEDs (which I am against), then make sure you are at least putting the key ingredient of consistent hard work before using them. Furthermore, if you do plan on using them stay away from competitive races (see my article about Lance Armstrong showing interest in Obstacle Course Racing) and organizations/events that are declared as drug free. If you do your research feel free to legally take them if you plan on competing in drug using events (NPC, IFBB, some powerlifting and strongman organizations) or are using it solely for aesthetic reasons. In my opinion if you are not competing it is not much different than getting plastic surgery to improve you appearance and consists of a personal choice.