| | |
| --- | --- |
| Posted by ackbar80 on May 17, 2017 at 10:10 PM | |
Every fitness magazine series has their elephant it he room that they rarely talk about. For lifting magazines it is drug use. Rarely talked about but clearly visible are advertisements filled with bodybuilders or fitness models clearly on steroids. Instead magazines like Flex, Muscle & Fitness and Train are filled with rep schemes and diet advice. That is all great stuff, but they never talk about the steroid use used to achieve the physiques that accompany the pictures of the good diet and training advice. The running "elephant in the room" is far less dramatic, but is just as important. The "running elephant" is volume.

Magazines like Runner's World fill their pages with new shoe types, diet and articles like "How to get faster while running less." All of that is good information but the secret to getting faster for readers of Runner's World is usually just run more. People reading these magazines do not want to hear that the secret to getting faster is just more work, because they feel like there has to be something else. The truth is that most people who are reading this magazines are running below 30 miles a week (that is based off talking to friends and coworkers that read running magazines). That is well below the almost 100 miles many professional runners put in each week.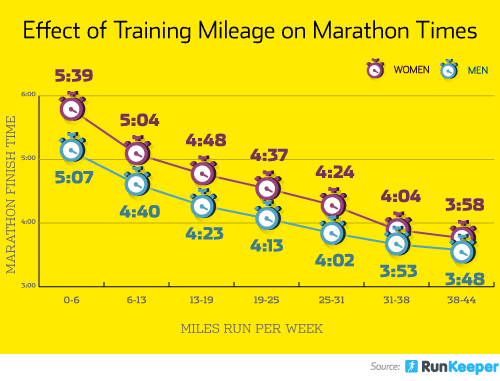 You can change shoes, tweak your diet or buy new garments all you like, but the answer to getting faster is usually just consistent hard work. I'm not saying don't read these magazines, because you will learn a lot regarding running related topics, but don't forget that at some point you need to put in the work. If every issues just said do more work, it wouldn't be very interesting so I understand why they are written the way they are.  The magazines provide much more than just training advice, they help you connect with the sport.  I know I have used these magazines for motivation in the past, which makes the hard work required for success easier. Keep reading and enjoying, but also keep that consistent hard work going.